MDM, short for Mobile Device Management, is the administrator of mobile devices, such as smartphones, tablet computers, and laptops. MDM is usually implemented with the use of a third-party product that has management features for particular vendors of mobile devices. Generally speaking, MDM solution is used by enterprises and schools.
There are many MDM solutions on the internet, and Scalefusion is one of the most popular MDM software provider. If your device is under the management of Scalefusion MDM software, then you may find that you cannot use some features on the device. Today, here we'll talk about how to remove Scalefusion without password.
---
Part 1. What Is Scalefusion Use for?
Scalefusion is a software provider that aims to deliver exceptional customer service and simplifying endpoint management for businesses around the world. Mobile Device Management software developed by Scalefusion can quickly secure, manage, and monitor any corporate-owned or employee-owned iOS devices, including iPhone and iPad. The following are the features of Scalefusion MDM: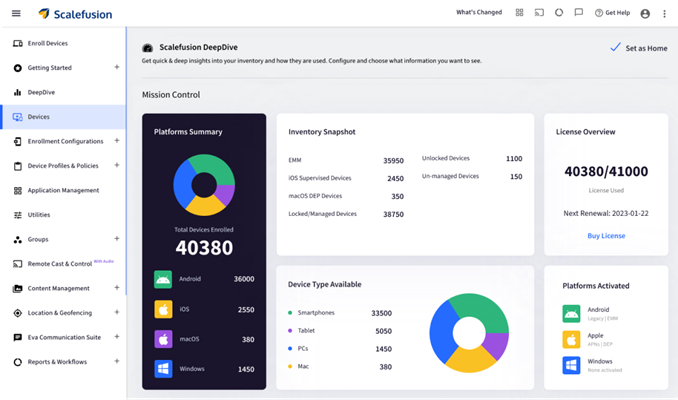 1. Prevent data sharing between work apps and personal apps.
2. Allow access to the specific set of apps and restrict access to all other apps.
3. Configure Wi-Fi network, hotspot and data roaming settings.
4. Lock the iPad, iPod Touch, or iPhone to a single app.
5. Blacklist specific websites and restrict access to unwanted web content.
6. Push digital certificates for authenticating connections to enterprise Wi-Fi.
7. Recover lost assets using Lost Mode without an Apple ID.
---
Part 2. How to Exist Scalefusion without Password
Although Scalefusion MDM offers many powerful features, there are many users who want to delete Scalefusion on their iOS devices. In fact, it is a bit difficult to remove Scalefusion if you are not an administrator or don't have the passcode for Scalefusion MDM. To uninstall Scalefusion MDM, you can try using a powerful MDM removal tool. Here MagFone iPhone Unlocker could be your best choice.
MagFone iPhone Unlocker has many features for iPhone, iPad, and iPod touch. It can help iPhone users get rid of MDM lock without passcode and data loss. In addition to deleting MDM restriction, MagFone iPhone Unlocker can unlink Apple ID without password and remove screen passcode, as well as, Screen Time passcode. So, you can use MagFone iPhone Unlocker to disable Scalefusion without password.

Key Features of MagFone iPhone Unlocker
* Security Verified. 5,481,347 people have downloaded it.
Unlock various screen locks like Face ID and Touch ID on all iOS devices
Remove Apple ID from iPhone and iPad without password and data loss
Bypass Screen Time passcode and MDM restrictions without passcode
Support the latest version of iOS and iPadOS, as well as, iOS devices
Step 1

Get iPhone Connected to Computer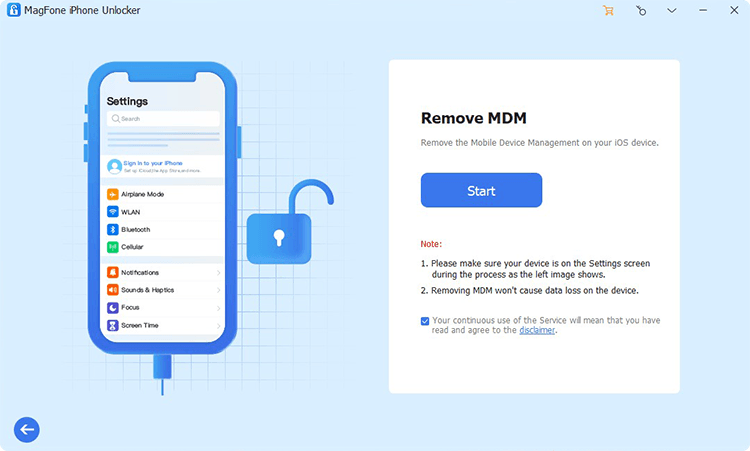 Once MagFone iPhone Unlocker is installed, open it on your computer, then go to connect your iPhone to the computer through a USB cable. From the four options on the software, simply choose Remove MDM, then click the Start button.
Step 2

Disable Scalefusion without Password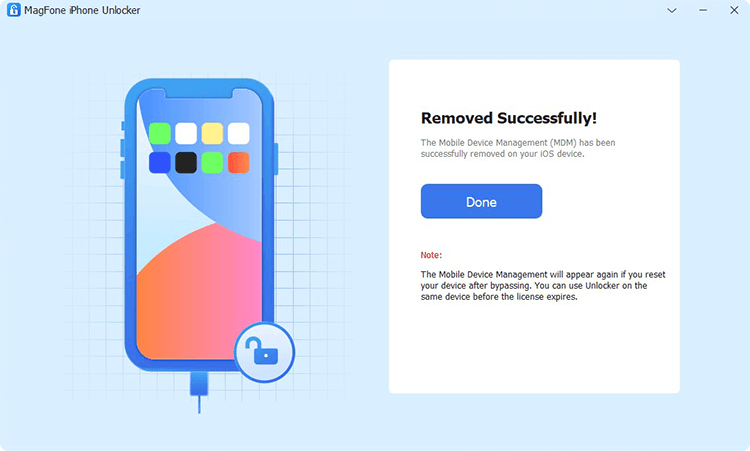 Make sure that the Find My iPhone feature is disabled. If not, you need to turn it off in Settings of your iPhone. Then go back to MagFone software, and you can click the Unlock button to remove Scalefusion without password.
---
Part 3. How to Bypass Scalefusion with Password
Another way to uninstall Scalefusion MDM on iOS devices is to directly delete it in Settings or remotely remove it from Scalefusion Dashboard. First, though, you'll need to get the passcode for Scalefusion MDM on your device. You can get in touch with the administrator or find the passcode for Scalefusion MDM. Then, you can follow the below steps to disable Scalefusion MDM on iOS devices.
Method 1. Disable Scalefusion on iPhone from Settings App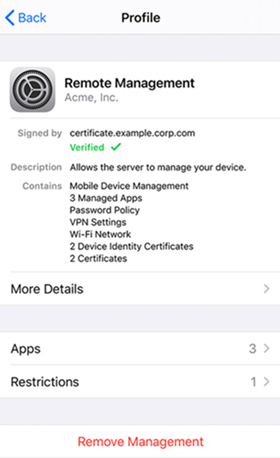 Step 1. Head over to Settings on your iPhone and tap on General.
Step 2. Under General, select Profiles & Device Management.
Step 3. Find Scalefusion MDM and tap on it, then tap on Remove Management.
Step 4. Enter the passcode for Scalefusion MDM to remove Scalefusion MDM.
Method 2. Disable Scalefusion on iPhone from Scalefusion Dashboard

Step 1. Visit https://app.scalefusion.com/ and enter your account details to sign into Scalefusion.
Step 2. Click the Device Profiles & Policies button and select Passcode Policy, then switch to the iOS tab.
Step 3. Select the Device Profiles from which you want to remove the passcode policy and click the Submit button.
---
Part 4. Frequently Asked Questions about Scalefusion
Question 1. How to exist Scalefusion without passcode?
A: To remove Scalefusion without passcode, you'll need the help of an MDM removal tool. Here you can make use of MagFone iPhone Unlocker to delete Scalefusion MDM on your iPhone and iPad.
Question 2. Does a factory reset remove Scalefusion?
A: No, you cannot remove Scalefusion MDM by resetting your iPhone to the factory settings. Once setting your iPhone up again, you'll still find Scalefusion MDM profile.
Question 3. How to set up Scalefusion on iOS?
A: It's easy to set up Scalefusion on iOS devices like iPhone and iPad. Log in Scalefusion Dashboard and navigate to the QR Code section. Expand the QR Code that you want to enrol the iPhone into and click on Show iOS QR, then copy the AC2 Enrollment URL.
---
Conclusion
And voila! That's all! Now you have known how to remove Scalefusion MDM on iOS devices. If you are not an administrator or don't have the passcode for Scalefusion MDM, you're suggested to use MagFone iPhone Unlocker. Or you can follow the above steps to uninstall Scalefusion with password.