"My parents just installed Qustodio on my new iPhone running iOS 15. Previously, they had Covenant Eyes on my old Android phone and I would use Safe Mode to get around it. What would be a similar way to get around Qustodio on iPhone? By the way, I don't watch unhealthy content, so I don't even know why they installed it. Thanks in advance!"
Qustodio is a great family parental and screen time app. With the ability of Qustodio, parents can easily set daily screen time limits and monitor various apps, including YouTube, TikTok, Snapchat, and more on the children's iPhone. But how to disable Qustodio without parents knowing? This question is proposed and discussed in lots of places, such as Reddit, Quora, and Apple Community. If you're having trouble removing Qustodio from iPhone, here's everything you need to know. Let's see how to disable Qustodio on iPhone without password.
---
Part 1. What Is Qustodio?
Qustodio is a parental control software designed to help parents monitor and manage their children's online activities. The software is designed to allow parents to set limits on the amount of time their children spend online, block inappropriate content, and track their online activity across multiple devices. Qustodio offers a range of features, including web content filtering, social media monitoring, screen time control, and location tracking. It can be installed on a wide range of devices, including smartphones, tablets, and computers. Qustodio is designed to help parents keep their children safe and protected while using the internet.
---
Part 2. How to Uninstall Qustodio from iPhone with Password
Uninstalling Qustodio from iPhone requires the account and password for Qustodio Configuration Profile. If you know the account details of Qustodio, then you can follow the below steps to uninstall Qustodio on iPhone no matter whether you use the latest or previous version of Qustodio for iPhone.
Method 1. Uninstall Qustodio on iPhone [Older Version]
Step 1. Visit https://family.qustodio.com/ and sign into Qustodio Parent Dashboard with the account details.
Step 2. Head over to Settings > Devices in Parent Dashboard and remove iPhone from Qustodio.
Step 3. Open the Settings app and tap General > Profiles & Device Management on your iPhone.
Step 4. Select Qustodio Configuration Profile and tap Remove Management.

Step 5. Enter the passcode for Qustodio Configuration Profile and tap Remove to uninstall Qustodio from iPhone.

Method 2. Uninstall Qustodio on iPhone [Latest Version]
Step 1. Launch the Qustodio app on your iPhone and enter the password of your account, then tap Log in.

Step 2. After signing into Qustodio, select Disable Protection, then tap Remove Qustodio.

Step 3. In the confirmation window, tap Remove and press OK to remove device.

Step 4. Head to the home screen and hold the Qustodio app icon for a few seconds, then press the cross to remove it.
Once you have completed these steps, Qustodio should be uninstalled from the iPhone. Keep in mind that this will also remove all the monitoring and control features provided by Qustodio, and the child will be able to use the device without any restrictions.
---
Part 3. How to Remove Qustodio from iPhone without Password
It's easy to delete Qustodio on iPhone with password. However, lots of users don't know the account and password of Qustodio Configuration Profile. This means that you'll find a way to remove Qustodio from iPhone without password. Here we do suggest that you use a professional tool like MagFone iPhone Unlocker. MagFone iPhone Unlocker can get around various MDM locks on the iPhone, iPad, and iPod touch. Here's how to disable Qustodio on iPhone without password.

Key Features of MagFone iPhone Unlocker
* Security Verified. 5,481,347 people have downloaded it.
Unlock various screen locks like Face ID and Touch ID on all iOS devices
Remove Apple ID from iPhone and iPad without password and data loss
Bypass Screen Time passcode and MDM restrictions without passcode
Support the latest version of iOS and iPadOS, as well as, iOS devices
Step 1

Select Remove MDM on MagFone Software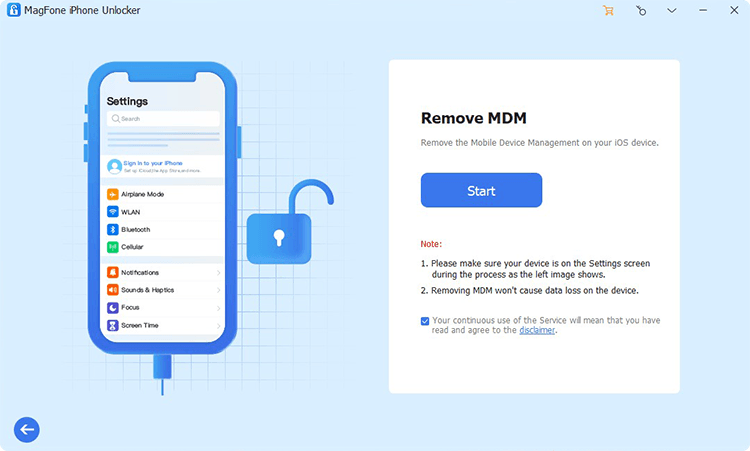 Download and launch MagFone iPhone Unlocker on your computer and select Remove MDM. Then connect your iPhone to the computer through a USB cable and click the Start button after your device is detected by MagFone software.
Step 2

Remove Qustodio from iPhone without Password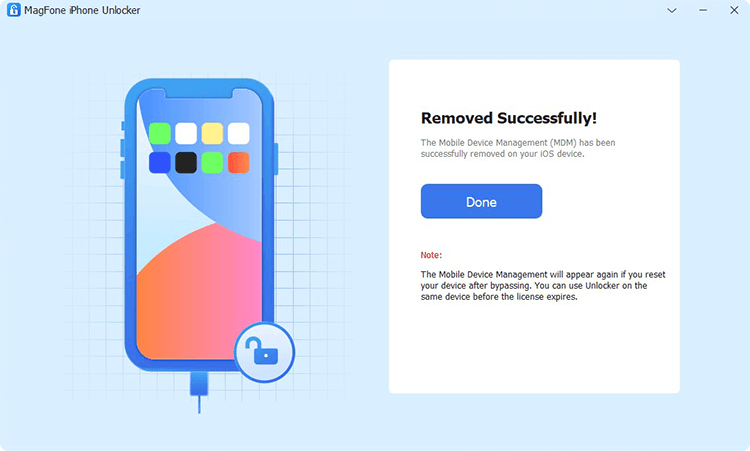 To remove Qustodio from iPhone, you have to turn the Find My iPhone feature off by taping Settings > Your Apple ID > Find My. Then go back to your computer and click the Unlock button to delete Qustodio Configuration Profile on your iPhone.
---
Part 4. Frequently Asked Questions about Qustodio for iPhone
Question 1. Can Qustodio monitor text messages on iPhone?
A: Qustodio can monitor text messages on an iPhone to some extent, but not all messages can be tracked. Qustodio for iOS can track SMS messages that are sent and received through the built-in Messages app on the device. However, it cannot monitor iMessages sent between Apple devices, which are encrypted and cannot be accessed by third-party apps like Qustodio. Additionally, Qustodio for iOS requires access to the iCloud account associated with the iPhone in order to monitor messages. This means that if the iCloud account is not set up or the backup feature is not turned on, Qustodio may not be able to monitor messages.
Question 2. Can Qustodio monitor private browsing on iPhone?
A: To some extent, Qustodio can monitor private browsing on an iPhone, but it has certain limitations. Private browsing is called Private Browsing Mode on the iPhone and it is designed to prevent the browser from saving any browsing history or cookies. Qustodio cannot directly monitor the browsing activity in Private Browsing Mode. So, Qustodio can still monitor some aspects of private browsing.
Question 3. Can Qustodio see deleted messages on iPhone?
A: No, Qustodio cannot see deleted messages on an iPhone. Once a message is deleted from the device, it is no longer accessible or visible to any app, including Qustodio. This includes both SMS messages and iMessages.
Question 4. How to hide Qustodio app on iPhone?
A: Due to technical limitations, it is not yet possible to hide Qustodio on mobile devices like iOS, Android, and Kindle devices.
---
Conclusion
If you followed these steps correctly, you should now have removed Qustodio from iPhone. You can directly delete Qustodio Configuration Profile in Parental Dashboard or Settings with password. When forgetting or not knowing the account and password for Qustodio Configuration Profile, you can use MagFone iPhone Unlocker.