"I've removed the Mosyle MDM profile from my iPad, yet when going to that iPad, the profile is still there and I can't remove it. Since I removed the profile on the Mosyle website, I can no longer remotely access that device. Is there another way to remove Mosyle MDM profile from my iPad?" - from Reddit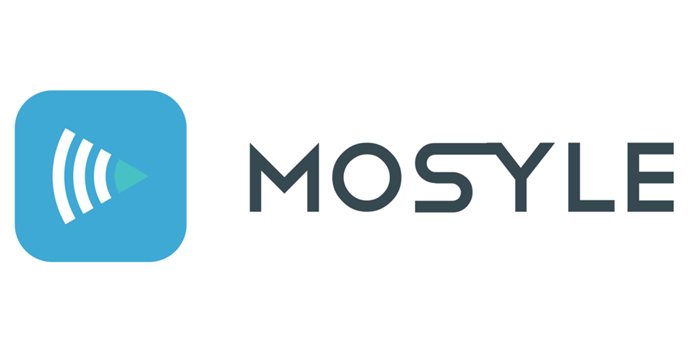 It is not easy to take control of different devices, such as smartphones, tablets, and even laptops at the same time. Since Mobile Device Management (MDM) is introduced, IT administrators can have the chance to keep tabs on different devices. There are many MDM solutions on the earth, and Mosyle Manager is one of the most outstanding MDM service provider for Apple devices. By setting up Mosyle profile, the administrator can smoothly and efficiently secure and manage Apple devices.
However, those devices that have been set up with Mosyle Manager are limited from various aspects like software updates. If you want to be in charge of your iPad by yourself, then you have to remove Mosyle Corporation MDM. But deleting Mosyle Corporation MDM on the iPad requires the Apple account details, which could be a bit difficult for those users without owning the details. Thankfully, this article will uncover how to remove Mosyle Corporation MDM from iPad.
---
Part 1. What Is Mosyle MDM?
Mosyle Manager is an MDM solution designed exclusively for education that can streamline the management process of Apple devices, such as iPhone and iPad. Except for that, Mosyle Manager can simplify the deployment of Apple devices for schools while ensuring students safely utilize devices for learning. This MDM solution is powerful enough to create the ideal learning environment for any school. Following are some of the features of Mosyle Manager.
1. Get the most out of Apple's Shared iPad and the Classroom app for iPad.
2. Configure all management settings to harness all Apple's education features and deployment programs.
3. Check compliance of student devices and solve any issues right in the classroom.
4. Ensure student focus and attention is within the intended educational application.
5. Customize and regulate student Internet access during class time.
6. Select apps allowed during class and remotely install them on student devices.
7. Easily assess students during class to evaluate student progress.
---
Part 2. How to Remove Mosyle Corporation MDM with Password
If you know the account details of Mosyle Manager, you can directly and easily delete the Mosyle profile in the Settings app of your iPad. When you don't have the Apple account details, you can get in touch with the administrator and ask the administrator to remotely remove Mosyle Corporation MDM from your iPad. Here's how to.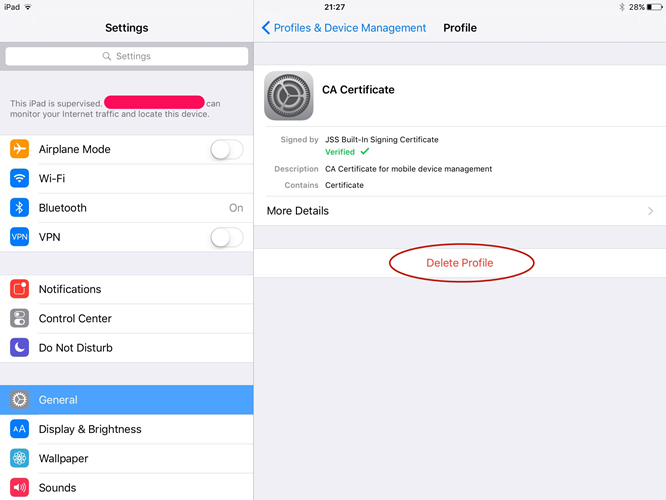 Step 1. Open the Settings app on your iPad and tap on General.
Step 2. Select Profiles & Device Management and tap on Mosyle MDM.
Step 3. Tap on Remove Management and enter the passcode to remove Mosyle MDM.
---
Part 3. How to Delete Mosyle Corporation MDM without Password
Removing your iPad from the Mosyle Manager's system is the only way to enable you to use your device autonomously. As mentioned, to delete the Mosyle profile on your iPad, you'll need the administrator's credentials. What to do if you don't have the credentials? In this case, you can use a powerful and professional MDM removal tool.
MagFone iPhone Unlocker is the most popular tool for deleting various MDM profile on the iPhone, iPad, and iPod touch. If you have the demand for disabling Mosyle Manager on your iPad, you can consider using MagFone iPhone Unlocker. Follow the below steps to work your way out of the Mosyle Corporation MDM.

Key Features of MagFone iPhone Unlocker
* Security Verified. 5,481,347 people have downloaded it.
Unlock various screen locks like Face ID and Touch ID on all iOS devices
Remove Apple ID from iPhone and iPad without password and data loss
Bypass Screen Time passcode and MDM restrictions without passcode
Support the latest version of iOS and iPadOS, as well as, iOS devices
Step 1

Connect iPad to Computer and Open MagFone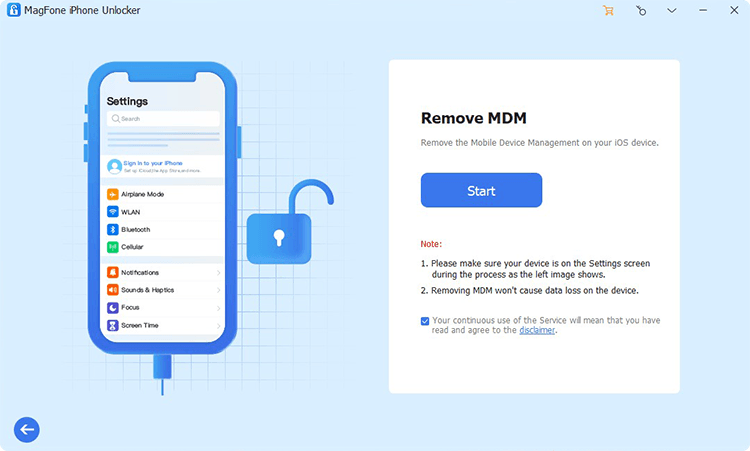 Start by connecting your iPad to your computer through a USB cable, then launch MagFone iPhone Unlocker. Here are four options available for you to choose from, and you can select the Remove MDM mode. After that, just click the Start button.
Step 2

Remove Mosyle Corporation MDM from iPad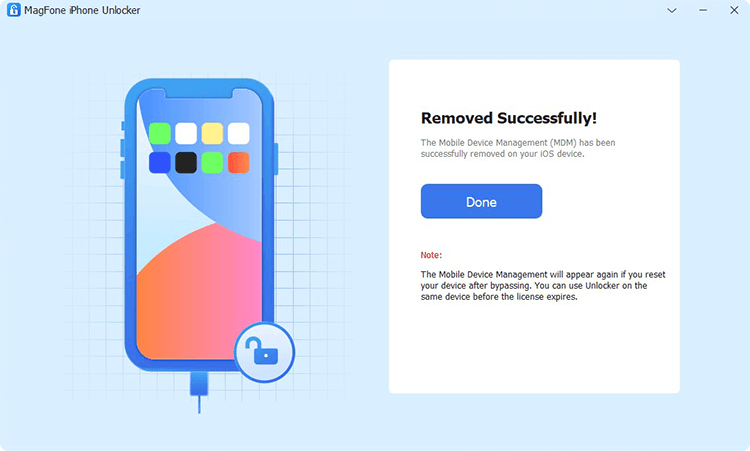 Then go to disable the Find My iPad feature on your iPad. Simply open the Settings app and tap your Apple ID > Find My > Find My iPad, then tap to turn it off. Go back to click the Unlock button on the MagFone software to remove Mosyle MDM from your iPad.
---
Conclusion
Mosyle Manager is usually used to control Apple devices like iPad by school. If you have the credentials or can contact the administrator, then it could be easy to disable Mosyle Manager on your iPad. Or you can choose to use MagFone iPhone Unlocker which can remove your device from the Mosyle Manager's system without erasing the data.