"I have an MDM profile on my iPhone 11 and it doesn't have an option to delete or remove. In the Maas360 profile in Settings, I only see 'More Details: and under that 3 options: Accounts, Apps, Restrictions. How do I delete MaaS360 from iPhone? Do I need to restore on a new phone? Is that what I need to do?"
"I have an iPad Pro 9.7-inch WiFi, Cellular that has MaaS360 placed there by a company that no longer exists. I know the IT director personally, but the company is no longer operating. So, there's no one to contact to have it removed. I'm now getting an Invalid Profile message. There has to be a workaround for this. Can anyone help?"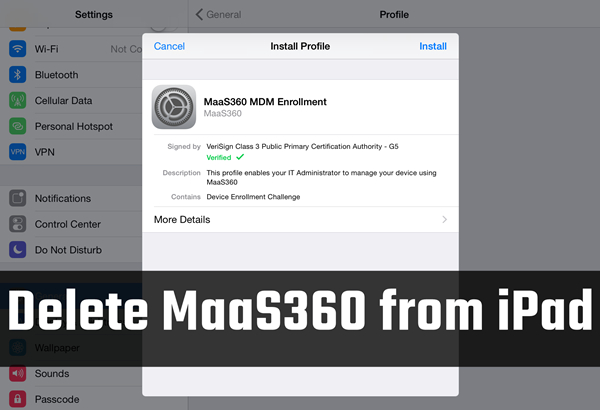 MaaS360 is used to help organizations manage and secure mobile devices, applications, and data, and ensure compliance with company policies and regulatory requirements. However, in the Apple Community, there are lots of iPhone and iPad users who want to delete MaaS360 profile. Removing MaaS360 from iPhone and iPad isn't easy. Fortunately, we are going to talk about how to remove MaaS360 from iPhone in this article. Let's dive into the details.
---
Part 1. What Is MaaS360?
MaaS360 is a cloud-based software solution developed by IBM that provides comprehensive management capabilities for mobile devices, such as smartphones and tablets. MaaS360 helps organizations manage and secure their mobile devices, applications, and content, while providing a user-friendly experience for end-users.
With MaaS360, organizations can easily configure and manage mobile devices, enforce security policies, and remotely wipe or lock devices if necessary. The platform also provides robust reporting and analytic capabilities, allowing organizations to monitor device and application usage, track compliance, and identify potential security threats.
MaaS360 supports a variety of mobile operating systems, including iOS, Android, and Windows, and can be deployed on-premise or as a cloud-based service. Overall, MaaS360 is a comprehensive mobile device management solution that helps organizations effectively manage and secure their mobile devices and data.
---
Part 2. What Is MaaS360 Used for?
MaaS360 is used as a mobile device management (MDM) solution that provides organizations with tools to manage, secure and monitor their mobile devices. Some of the common uses of MaaS360 include:
1. Mobile Device Configuration: MaaS360 allows IT administrators to configure and manage the settings of mobile devices, such as Wi-Fi and VPN settings, email configurations, and device policies. This helps ensure that all devices are set up consistently and in accordance with company policies.
2. Mobile Application Management: MaaS360 enables IT teams to manage and deploy mobile applications to employees' devices. This allows organizations to control which applications can be used on company-owned devices, ensuring that employees have access to only the applications they need for work.
3. Mobile Content Management: MaaS360 allows organizations to manage and secure sensitive business data on mobile devices. This includes features like remote data wipe and containerization, which enables IT teams to separate personal and work-related data on employees' devices.
4. Mobile Security: MaaS360 provides advanced security features such as encryption, multi-factor authentication, and mobile threat defense to help organizations protect their mobile devices and data from security threats.
---
Part 3. How to Delete MaaS360 from iPhone/iPad
MaaS360 has the feature for the administrators that lets them remove MaaS360 from iPhone and iPad remotely. Or you can delete MaaS360 from iPhone and iPad in Settings by entering the password for MaaS360 profile. Alternatively, you can use a third-party MDM removal tool to uninstall MaaS360 without password. Here's how to.
Method 1. Delete MaaS360 from iPhone in Settings
Deleting the MaaS360 app from your iPhone will only remove the app from your device. To completely remove the iPhone from MaaS360, you will need to contact your IT administrator and ask them to remove the iPhone from their MaaS360 console. Here you can delete MaaS360 from iPhone in Settings if you know the MaaS360 profile details.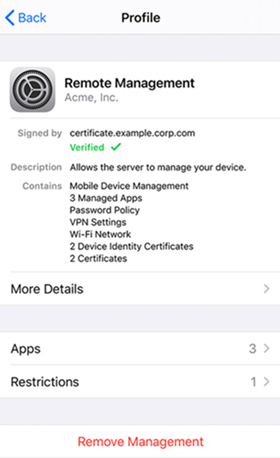 Step 1. Locate Settings on your iPhone and tap on General.
Step 2. Tap on Profile & Device Management and select MaaS360 MDM profile.
Step 3. Scroll to the bottom and tap on Remove Management.
Step 4. Enter your passcode at the prompt and select DONE at the top right corner.
Step 5. Tap on Remove Management again to confirm that you want to uninstall MaaS360 from iPhone.
Method 2. Remove MaaS360 from iPhone via MDM Removal
Another way to uninstall MaaS360 on your iPhone is to use an MDM removal tool. When it comes to using an MDM removal tool, here we do recommend MagFone iPhone Unlocker to you. MagFone iPhone Unlocker is an amazing software that is capable of removing various MDM software, including MaaS360, on the iPhone, iPad, and iPod touch. With it, you can also unlock screen passcode, Apple ID password, and Screen Time passcode. Now follow the below steps to uninstall MaaS360 from iPhone.

Key Features of MagFone iPhone Unlocker
* Security Verified. 5,481,347 people have downloaded it.
Unlock various screen locks like Face ID and Touch ID on all iOS devices
Remove Apple ID from iPhone and iPad without password and data loss
Bypass Screen Time passcode and MDM restrictions without passcode
Support the latest version of iOS and iPadOS, as well as, iOS devices
Step 1

Get iPhone Connected to Computer and Run MagFone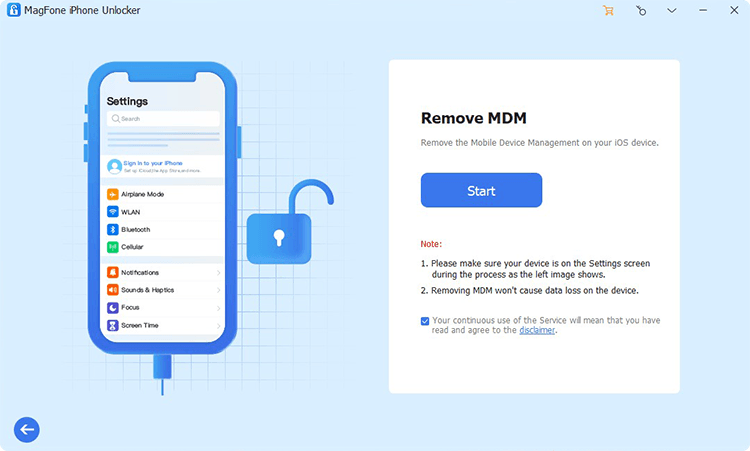 First up is to connect your iPhone to your computer through a USB cable. Then open MagFone iPhone Unlocker on the computer and select the Remove MDM option. When your device is detected by the computer, click the Start button.
Step 2

Start to Uninstall MaaS360 from iPhone without Password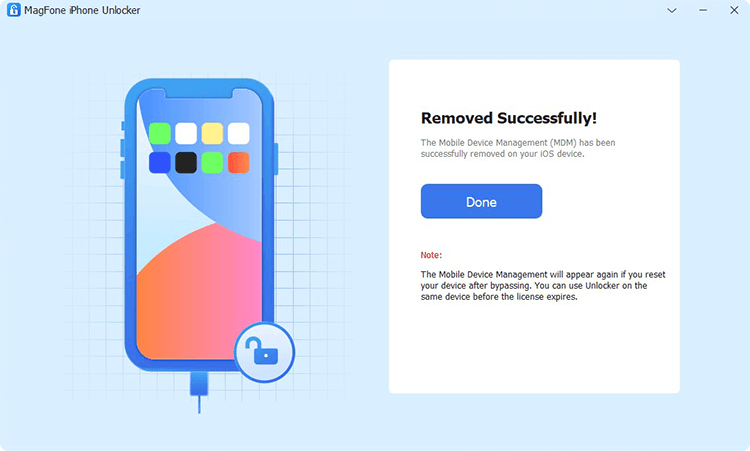 Then you have to disable the Find my iPhone feature on your iPhone by tapping on Settings > Your Apple ID > Find My and toggling Find My iPhone off. On the screen of MagFone software, click the Unlock button to remove MaaS360 from iPhone.
---
Part 4. Frequently Asked Questions about MaaS360
Question 1. Can MaaS360 see my photos?
A: MaasS360 cannot see your photos. Depending on how your organization has configured MaaS360, it is possible that your photos from the company could be visible to your IT administrator. But even if your device is enrolled in MaaS360, your personal photos should remain private and secure.
Question 2. Can MaaS360 track your location?
A: MaaS360 can track your location. If location tracking is enabled by your organization, MaaS360 uses the device's GPS, Wi-Fi, and cellular network signals to determine the device's location. But MaaS360 allows users to control location tracking and can be configured to only track location during work hours or in specific circumstances.
Question 3. Does MaaS360 monitor text messages?
A: Text messages could be monitored or logged by the solution if your organization has configured MaaS360. But in most cases, MaaS360 is configured to only access and manage business-related data on devices and avoid accessing personal data. Whether MaaS360 monitors text messages or not depends on how your organization has configured the solution and what policies they have in place regarding the management of personal data on mobile devices.
Question 4. Can MaaS360 track web browsing?
A: MaaS360 can track web browsing. If web browsing tracking is enabled by your organization, MaaS360 can log web browsing history on a device and provide this information to IT administrators. This can be useful for monitoring and enforcing compliance with company policies regarding acceptable use of mobile devices.
---
Conclusion
And voila! That's all! MaaS360 is a great mobile device management software that can be used to iPhone, iPad, and iPod touch. To bypass MaaS360 on your iPhone, you can contact the administrator or use the MaaS360 profile details. However, if you cannot uninstall MaaS360 from iPhone, then you can directly use MagFone iPhone Unlocker. It allows you to delete MaaS360 on your iPhone without any MaaS360 information.