"I set up a 4 digit code on my phone, previous to that I had installed a replacement screen for my XS phone. All of the sudden my 4 digit code does not work! It's a code I've used for many many years! It's a number I can't forget, something weird is happening. What to do if my iPhone changed passcode by itself?"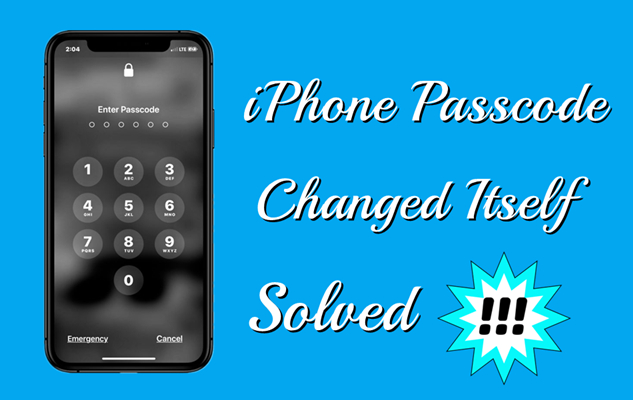 It's a common complaint that iPhone changed passcode on its own in the Apple Community. Apple's iPhone remains one of the best smart phones on the market. And there are currently a number of different models to choose from. So it is hardly surprising that iPhone passcode changed by itself. In this guide, we've rounded up three feasible methods to fix this problem. Let's check out now!
---
Part 1. What Causes My iPhone Passcode Changed Itself?
Many iPhone users found that their iPhone passcode changed from 4 to 6 digits by itself. But they don't figure out what causes the problem. It can be caused by various reasons, such as the bug with iPhone, iPhone data corruption, or security arrangement of Apple after system update. There are too many reasons that can affect the operation of iPhone.
---
Part 2. How to Fix iPhone Changed Passcode on Its Own
There are four methods to fix the iPhone passcode changed itself problem as possible. But before we dive into the detailed steps of each method, let's talk about the differences among the three methods. From the information shown in the table below, you will know which way is much more suitable for you.
| | | | | |
| --- | --- | --- | --- | --- |
| | Use Security Lockout | Use iTunes | Use iCloud | Use MagFone iPhone Unlocker |
| Apple ID and Password | √ | × | √ | × |
| Activation Required | √ | × | √ | × |
| Operation Steps | Easy | A little complex | A little complex | Easy |
| Success Rate | High | High | High | Almost 100% |
| Recommendation | ★★★★ | ★★★★ | ★★★★ | ★★★★★ |
Method 1. Fix iPhone Changed Passcode Itself via Security Lockout
The iPhone running iOS 15 or later allows the user to directly erase the passcode when it is disabled. Only if you can remember your Apple ID password you'll be remove the passcode and unlock your iPhone without passcode or computer. Here's how to make use of Security Lockout for unlocking iPhone without passcode.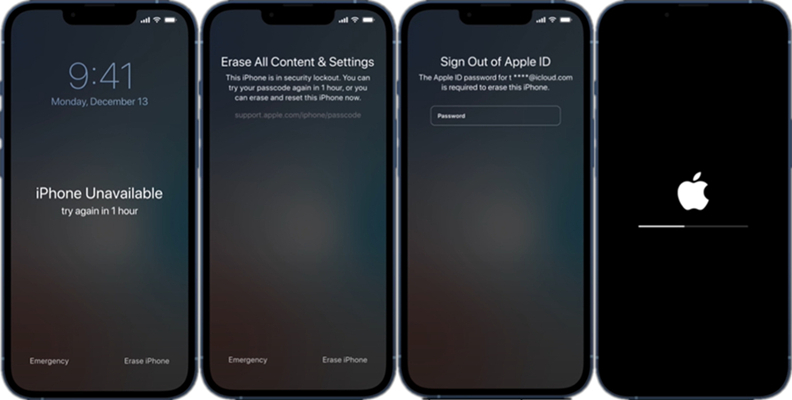 Step 1. On the iPhone Unavailable screen, tap on Erase iPhone at the bottom right corner.
Step 2. Tap on Erase iPhone again and go to enter your Apple ID password for signing out of Apple ID.
Step 3. After signing out of Apple ID, tap on Erase iPhone to confirm that you want to erase all the data and settings on your device.
Method 2. Fix iPhone Changed Passcode Itself via iTunes
To fix iPhone passcode randomly changed, you can use iTunes to restore your iPhone. As a multi-functional tool, iTunes enables you to not only manage your media files but also restore various issues related to iPhone, iPad, and iPod. If you have your computer trusted by your iPhone, then you can solve this issue by following the steps below.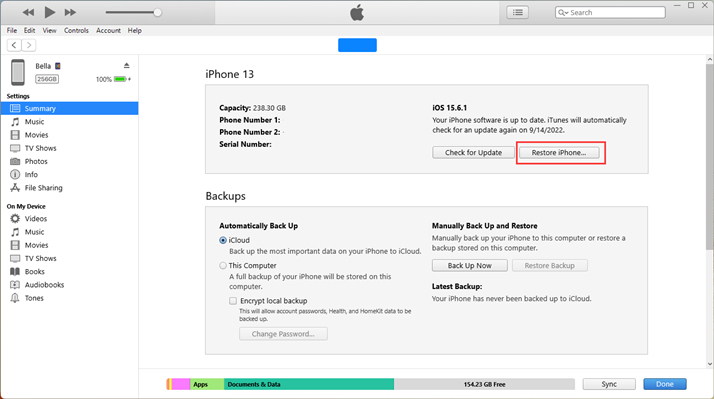 Step 1. Use a USB cable to connect your iPhone to your computer then open iTunes.
Step 2. Click on your device icon in iTunes and go to the Summary tab.
Step 3. Select the Restore iPhone option and click on the Restore button again to confirm.
After restoring your iPhone, the problem on your device will be resolved. But if your iPhone is synced with your computer, you are not able to directly use iTunes to fix this problem. In this situation, you need to put your device into recovery mode first. Then you can use iTunes or Finder to restore it.
Method 3. Fix iPhone Changed Passcode Itself via iCloud
In addition to using iTunes, you can also troubleshoot the problem of iPhone changed passcode itself via iCloud. Make sure that the Find My feature is enabled on your iPhone. Then you can go to iCloud's website and then remove passcode from your iPhone with the help of iCloud. Now follow the steps below to start fixing the problem.

Step 1. Head to www.icloud.com and enter your Apple ID account and password for logging in.
Step 2. Click on the Find iPhone button and then click on the All Devices button on the top of the new window.
Step 3. From the drop-down list, select your iPhone then click on the Erase iPhone button in the pop-up window.
iCloud can help you remotely erase all the data and settings on your iPhone. So, you can remove iPhone passcode and set up on your device again. By using iCloud to restore iPhone, you need to activate your device when you restart it.
Method 4. Fix iPhone Changed Passcode Itself via iPhone Unlocker
With the above methods, you can resolve the iPhone passcode changed by itself problem. But there is an easier way to help you unlock your iPhone when it is locked by itself. Here you can try using an iPhone unlocking tool - MagFone iPhone Unlocker. It is an easy-to-use yet professional unlocking tool that supports deleting various locks like 4-digit and 6-digit passcode on iPhone, iPad, and iPod touch.
By adopting an advanced unlocking technique, MagFone iPhone Unlocker can remove Apple ID from iPhone, iPad, and iPod touch without password. Also, if you want to turn off Screen Time passcode or bypass MDM restrictions on all Apple mobile devices, you can use MagFone iPhone Unlocker to get it done. Here's an easy step-by-step guide to solve iPhone passcode changed by itself via MagFone iPhone Unlocker.

Key Features of MagFone iPhone Unlocker
* Security Verified. 5,481,347 people have downloaded it.
Unlock various screen locks like Face ID and Touch ID on all iOS devices
Remove Apple ID from iPhone and iPad without password and data loss
Bypass Screen Time passcode and MDM restrictions without passcode
Support the latest version of iOS and iPadOS, as well as, iOS devices
Step 1

Connect iPhone to Computer and Launch MagFone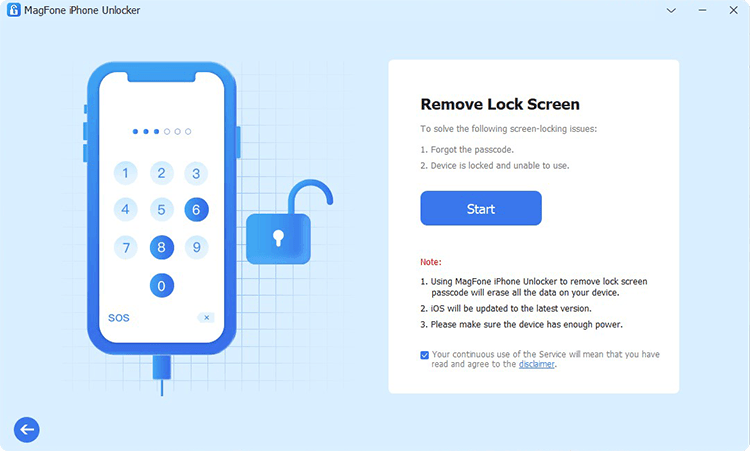 First of all, connect your iPhone to your computer through a USB cable. Then pull up MagFone iPhone Unlocker on the computer. After MagFone detects your iPhone, select the Remove Lock Screen option and click on the Start button.
Step 2

Go to Boot iPhone into DFU Mode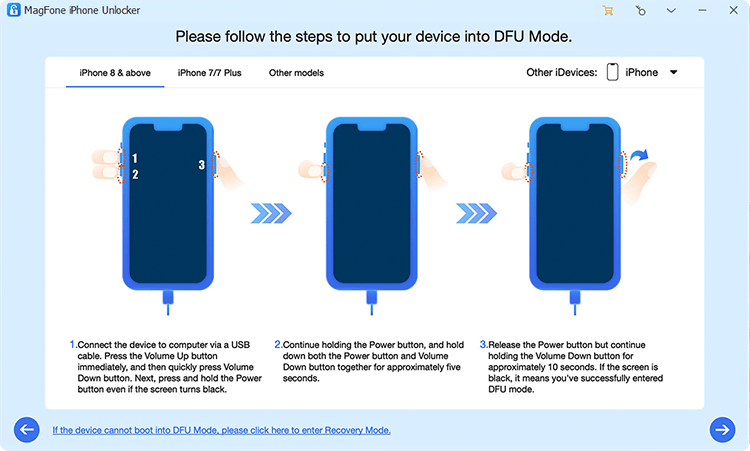 The next step is to manually put your device into DFU mode fore fixing the iPhone passcode changed on its own. Simply follow the on-screen instructions to boot your device into DFU mode.
Step 3

Download the Matching Firmware Package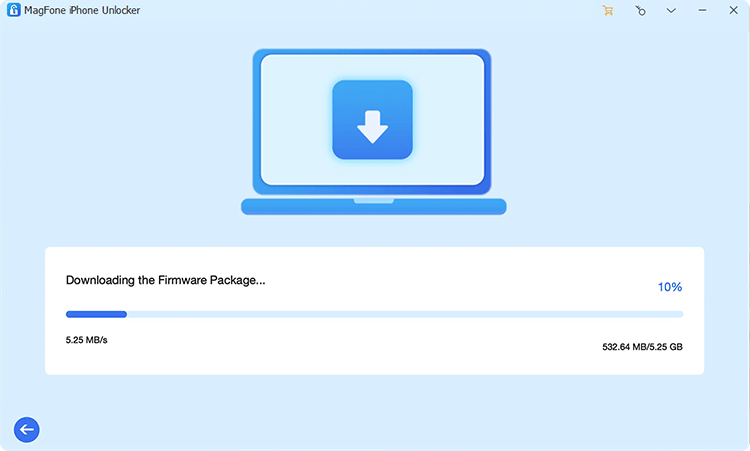 After entering into the DFU mode, you need to check the information of your device displayed on the software. Make sure all the information isn't wrong, or you need to correct it. Then click on the Download button to download the firmware package.
Step 4

Remove Screen Passcode from iPhone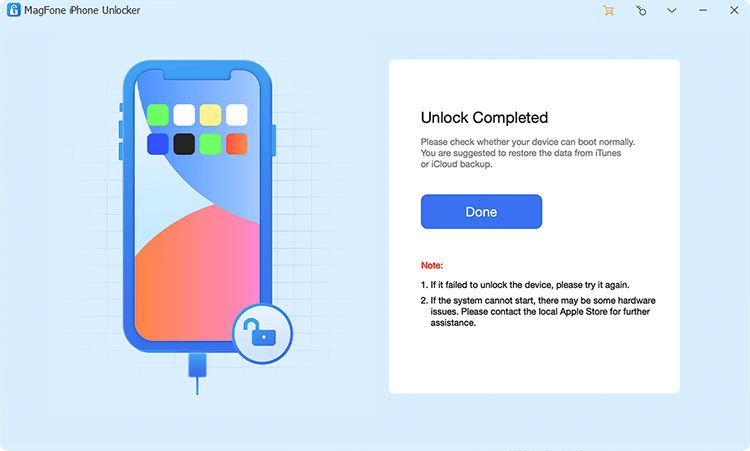 Once completing the download of the firmware package, then you can click on the Unlock button to begin removing the screen passcode from your iPhone. Remember that your device needs to be connected to the computer in the whole process. Finally, you can restart your device.
---
Part 3. How to Back up iPhone before Repairing
All the above methods will erase all the content and settings on your iPhone in the process of restoring it. Provided that your iPhone has kept in sync with your iCloud, you don't need to worry about the data loss and can directly restore it. If you are not out to lose any data and information on your device, then you can make a backup of your device in advance.
Back up iPhone with iTunes on PC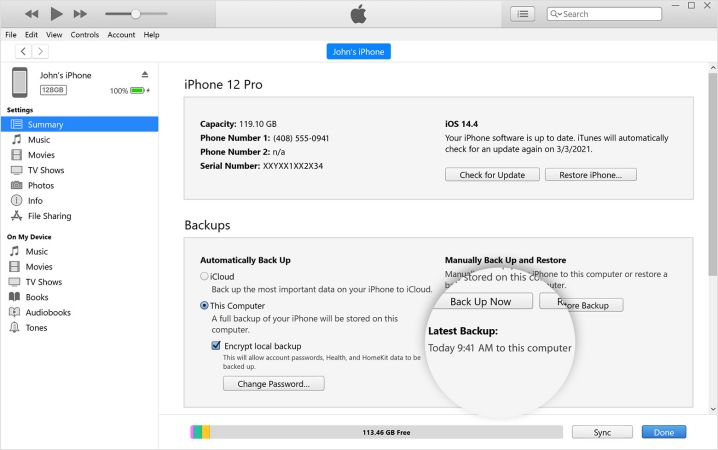 Step 1. Open iTunes on your Windows PC and connect your iPhone to the computer with a USB cable.
Step 2. Select your device in iTunes and click Summary then click on the Back Up Now button.
Back up iPhone with Finder on Mac

Step 1. Connect your iPhone and your computer with a cable and select your device in the Finder sidebar on your Mac.
Step 2. Click General and select Back up all of the data on your iPhone to this Mac then click on the Back Up Now button.
---
Part 4. How to Set up a Passcode for iPhone after Repairing
After successfully fixing the problem, you can create a new passcode for your iPhone. If you use an iPhone with the Home button, your can use your fingerprint. Or you can use face recognition if your iPhone supports Face ID. But you need to use a passcode for your iPhone to avoid Touch ID or Face not working. Here's how to set a passcode on iPhone.

Step 1. Go to Settings, then tap Face ID & Passcode or Touch ID & Passcode.
Step 2. Tap Turn Passcode On to enter a new passcode. Or tap Passcode Options to select a passcode.
---
Conclusion
When you have the problem of iPhone passcode changed itself, simply read this article and go to try the methods above. You can use iTunes or iCloud to erase the passcode on your iPhone. Or you can delete the passcode by using MagFone iPhone Unlocker. If you still have other problems, leave a comment on our webpage.