ManageEngine MDM is the agent app used for efficient management of mobile devices in an organization. Generally speaking, the organization like companies uses this app to manage and control company-owned devices like iPhone and iPad. Sometimes, the features and functions on the iPhone and iPad are limited by ManageEngine MDM. In this case, users would wonder how to remove device from ManageEngine MDM. Fortunately, in this article, you'll learn how to delete ManageEngine MDM on iPhone.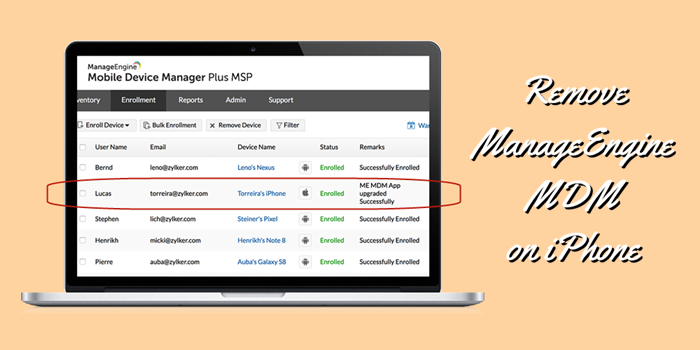 ---
Part 1. What Is ManageEngine MDM?
ManageEngine MDM is a software solution developed by ManageEngine, a division of Zoho Corporation, for managing mobile devices in an enterprise network. It enables IT administrators to remotely manage, monitor and secure mobile devices such as smartphones, tablets, laptops, and IoT devices from a central console.
With ManageEngine MDM, IT administrators can perform various tasks such as enrolling new devices, pushing software updates, configuring settings, and enforcing policies on devices. It also provides features such as remote wipe, lock, and locate to help protect sensitive data in case a device is lost or stolen.
ManageEngine MDM supports multiple platforms, including iOS, Android, Windows, and macOS, and offers integration with other ManageEngine products for IT operations management. It is designed to help organizations streamline their mobile device management processes, improve security, and increase productivity.
---
Part 2. Why Do People Need to Uninstall ManageEngine MDM?
There could be several reasons why someone might want to remove ManageEngine MDM from their devices or network. Some of the possible reasons are:
1. Change in business requirements: The organization may have decided to switch to a different MDM solution that better suits their current needs and requirements.
2. Cost considerations: ManageEngine MDM may no longer be cost-effective for the organization, especially if they have a large number of devices to manage.
3. Technical issues: The organization may have experienced technical issues or bugs with the ManageEngine MDM software, which have not been resolved despite troubleshooting efforts.
4. End of support: If the vendor has announced the end of support for the ManageEngine MDM product, the organization may want to consider removing it and switching to a new solution to ensure continued security and support.
5. Security concerns: In case of security concerns or breaches, the organization may want to remove ManageEngine MDM from their devices to prevent any further damage or unauthorized access to their network.
---
Part 3. How to Bypass ManageEngine MDM on iPhone without Password
It's possible to disable ManageEngine MDM on the iPhone without password. That is to use a professional MDM removal tool. Here you are suggested to use MagFone iPhone Unlocker. It is capable of removing MDM restrictions on the iPhone, iPad, and iPod touch while not deleting any data and content on the device. Except for deleting MDM lock, MagFone iPhone Unlocker can unlock screen lock, unlink Apple ID, and get around Screen Time passcode. If you have a computer, it's easy to download and install MagFone iPhone Unlocker to your computer. Then follow the below steps.

Key Features of MagFone iPhone Unlocker
* Security Verified. 5,481,347 people have downloaded it.
Unlock various screen locks like Face ID and Touch ID on all iOS devices
Remove Apple ID from iPhone and iPad without password and data loss
Bypass Screen Time passcode and MDM restrictions without passcode
Support the latest version of iOS and iPadOS, as well as, iOS devices
Step 1

Connect iPhone to Computer and Open MagFone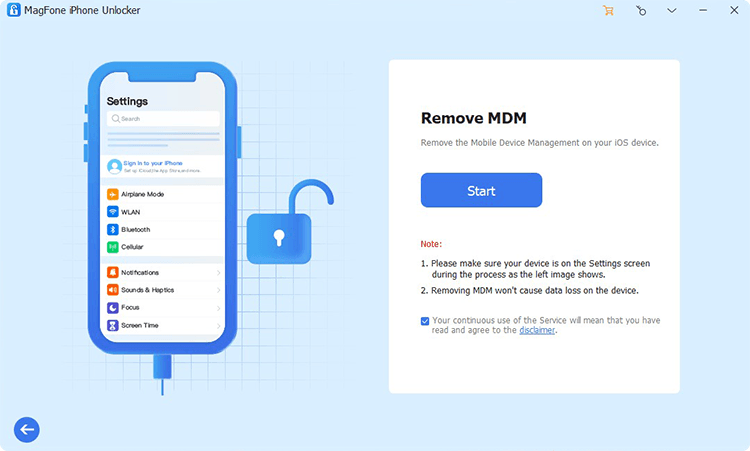 Make your iPhone connect to your computer by using a USB cable. Then open MagFone iPhone Unlocker on the computer and select the Remove MDM option. After MagFone software detects your device, click the Start button.
Step 2

Start to Remove ManageEngine MDM on iPhone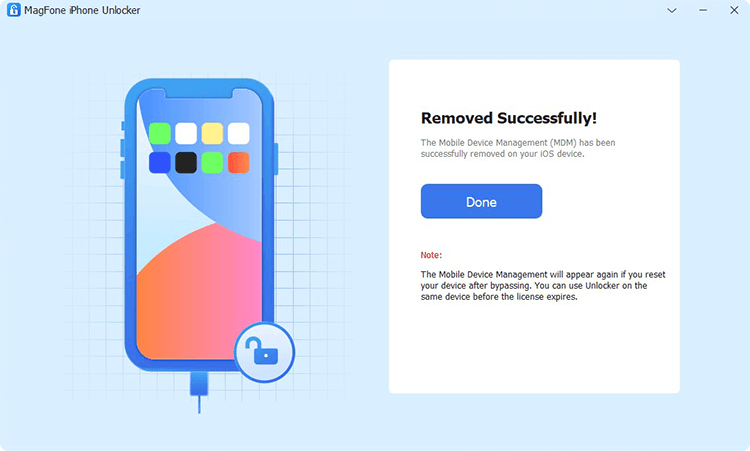 Locate Settings and tap Your Apple ID > Find My, then turn Find My iPhone off on your device. If the Find My iPhone feature is disabled, then you can go to directly get rid of MDM on your iPhone. Now click the Unlock button to remove ManageEngine MDM.
---
Part 4. How to Uninstall iPhone from ManageEngine MDM with Password
The joining of MagFone iPhone Unlocker makes it possible to delete ManageEngine MDM on your iPhone without password. But if you can contact the administrator or know the details of ManageEngine MDM on your iPhone, you can directly uninstall your iPhone from ManageEngine MDM with password. Let's dive into the details.
Method 1. Remove ManageEngine via Admin Panel
If you can get in touch with the administrator who have the ability to delete ManageEngine MDM, you can ask the administrator to remotely remove your iPhone from ManageEngine MDM by using Admin control panel.


Step 1. Navigate to Enrollment on the web portal and switch to the Enrollment tab.
Step 2. Select the Search option and use the search feature to find your iPhone.
Step 3. Click the Action button and choose Remove Device, then click OK to confirm.
Method 2. Remove ManageEngine via iPhone Settings
If you are using an iPhone that has been supervised by ManageEngine MDM, then you can remove the MDM profile in the Settings of your device.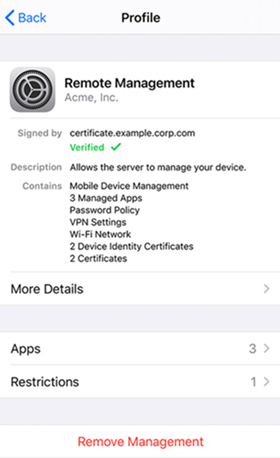 Step 1. Open Settings on your iPhone and tap General > Profiles & Device Management.
Step 2. Find ManageEngine Configuration Profile and tap it, then tap Remove Management.
Step 3. When prompted, enter the passcode for ManageEngine MDM and tap Remove.
---
Conclusion
To conclude, you'll find an appropriate way to help you remove ManageEngine MDM on your iPhone. When you can contact the administrator or know the details of ManageEngine MDM, you can directly delete ManageEngine MDM in the Setting of iPhone or though Admin Panel. It doesn't matter if you don't have the account and password of ManageEngine MDM. Here you can try using MagFone iPhone Unlocker. Don't hesitate! Go to have a try of MagFone iPhone Unlocker, and you'll find it out.