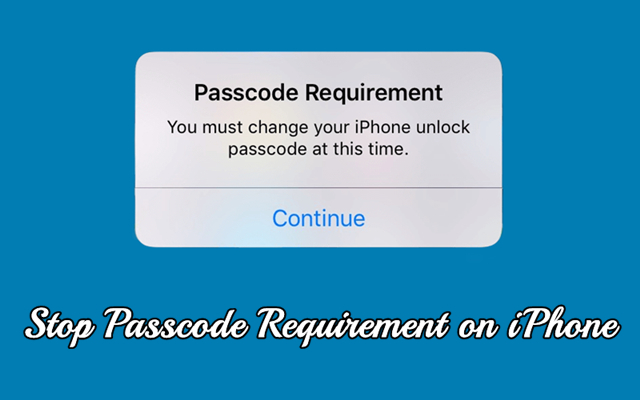 "You must change your iPhone unlock passcode within 60 minutes." Sounds quite terrifying, right? Many iPhone users came across a pop-up window as shown in the above picture while surfing the internet. Some iPhone users are worried because they don't know whether this results from an iPhone virus attact. Besides, all of them are afraid that once they change the iPhone unlock passcode, the data on the device will be leaked to someone else.
If you are having trouble dealing with iPhone Passcode Requirement, then this passage is totally for you. Below we have listed some reasons why iPhone sometimes require passcode and several ways to remove passcode requirement from iPhone. Read the following content carefully, and hopefully, you can find out a solution.
---
Part 1. Why Does iPhone Passcode Requirement Pop up?
When iPhone users wonder why the iPhone Passcode Requirement message will emerge, the answer can be different according to the real situation. All in all, the following possibilities may lead to the problem.
1. Rather Simplistic Passcode
If your iPhone unlock passcode is too simple, such as 1111, aaaa, and 1234, Apple is likely to recommend the you change the unlock passcode to better protect your device. So, if you are asked to change the passcode on your iPhone, the first thing you can think about is whether your passcode is too simple or not.
2. Accumulated Browser Cache
Cookies and cache can accumulate when you surf the internet with a web browser frequently. When the amount reaches a certain level, it is necessary to have it removed. If you fail to clear up the browsing cache data, a pop-up window asking you to change the passcode on your iPhone can occur.
3. MDM Restriction
If your iPhone is under MDM, it will lock up when you have no permits for certain apps or features. In this case, the passcode requirement message may be shown on the screen of your iPhone.
4. Email Accounts or Configuration File
iPhone users can view Apple's website and find a page about this issue. It mentions that the configuration profiles and email accounts based on Microsoft Exchange sometimes have passcode policies that may cause such an issue. You may need to change the passcode on your iPhone.
5. System Bug
In some cases, systematical bugs or failures can also cause the malfunction. iPhone asks to change the passcode all the time though you can use its feature as normal.
---
Part 2. What If You Refuse to Change the iPhone Unlock Passcode?
For iPhone users whoe tap Later on the screen, you can still use your iPhone smoothly for a while. But soon, the passcode requirement notification will pop up again with a declining timer counting down, which implies how much time you have to make a decision again. If you continue to tap Later, you are able to use your device until the notification re-occurs. To avoid being locked by the system, follow the methods in the next part to get rif of the iPhone Passcode Requirement message.
---
Part 3. How to Make iPhone Require Passcode to Turn off
After knowing why we are required to change the iPhone unlock passcode, then it is time that we discuss how to deal with this problem. You can take measures to prevent your iPhone from popping up as suggested below.
Method 1. Change the iPhone Unlock Passcode
As mentioned above, Apple can detect your iPhone unlock passcode is too simple, then requre you to change it to a new one. So, when iPhone asking to change the passcode, just change your iPhone unlock passcode on the pop-up window.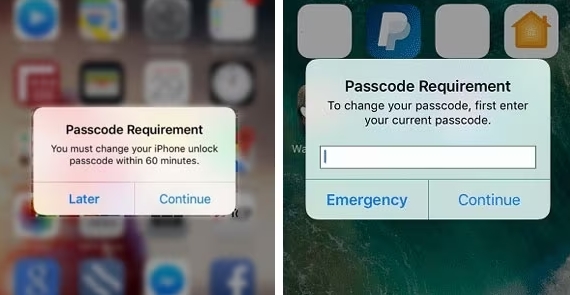 Step 1. Tap Continue to change the passcode.
Step 2. Enter your currently used password and tap Continue again.
Step 3. Do as suggested on the screen to set up a new password for your iPhone.
Method 2. Clear the Browsing Data in Safari
Too many cookies and cache will also cause the iPhone Passcode Requirement message to occur. Here's how to settle the matter.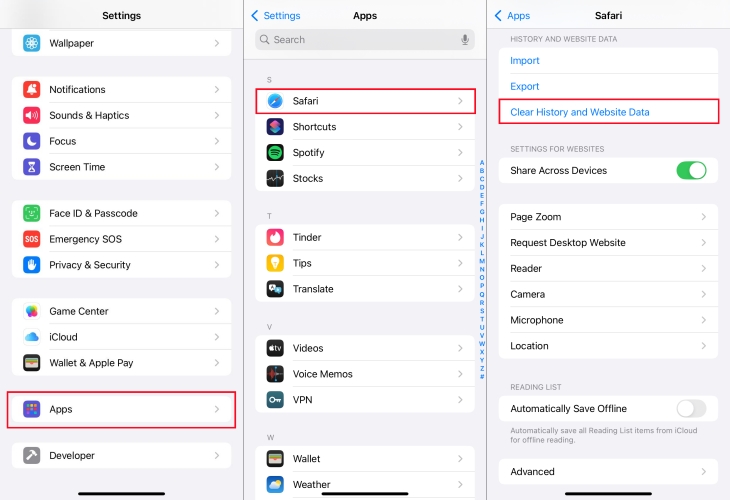 Step 1. Go to Settings, then select Safari.
Step 2. Tap Clear History and Website Data, then tap Clear History and Data to confirm.
Method 3. Remove the Configuration File
If you are using a business-owned iPhone with the MDM profile or you have installed a beta iOS before, this can result in some configuration profiles. So, by removing MDM from your iPhone, you can get rid of the iPhone Passcode Requirement message. Below are the instructions.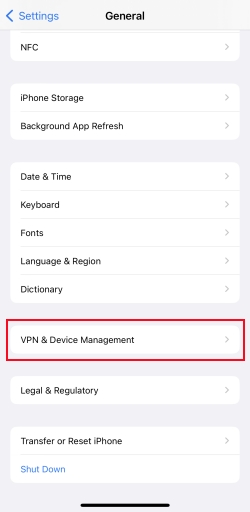 Step 1. Go to Settings > General, then scroll down to tap VPN & Device Management.
Step 2. Choose the configuration file and tap Remove Management to remove the message.
Method 4. Remove Exchange Email Account
For users who want to deal with passcode requirement message on iPhone, another possible way can be removing Exchange email account. Here's how to delete the Exchange email account.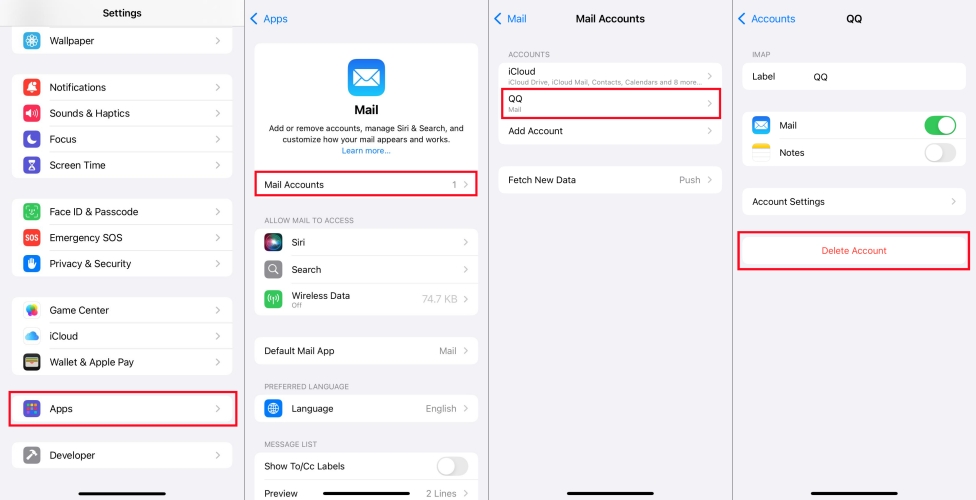 Step 1. Go to Settings, then select Mail.
Step 2. Scroll down and tap Accounts. Under the Account options, choose the one that Microsoft Exchange has added.
Step 3. Tap Delete Account to finish the process.
---
Part 4. Ultimate Way to Remove Passcode Requirement from iPhone
Still stuck in the passcode requirement message on your iPhone? Wonder how to remove passcode requirement from iPhone? After failing to fix the issue with the above methods, you can try a third-party tool. MagFone iPhone Unlocker takes up a dominant role when it comes to changing iPhone passcode. No need for further technical skills, MagFone software can solve the issue within 4 simple steps. It can remove the unlock passcode at a quick speed and allow you to set up a new one.
Besides removing the iPhone unlock passcode, MagFone iPhone Unlocker is professional in unlinking Apple ID without password, deleting MDM restrcions, and bypassing the screen time lock. For anyone who has difficulty solving the iPhone Passcode requirement issue, MagFone iPhone Unlocker can be your best assistant with no doubt. Here's how to remove passcode requirement from iPhone by using MagFone software.

Key Features of MagFone iPhone Unlocker
* Security Verified. 5,481,347 people have downloaded it.
Unlock various screen locks like Face ID and Touch ID on all iOS devices
Remove Apple ID from iPhone and iPad without password and data loss
Bypass Screen Time passcode and MDM restrictions without passcode
Support the latest version of iOS and iPadOS, as well as, iOS devices
Step 1

Connect iPhone to Computer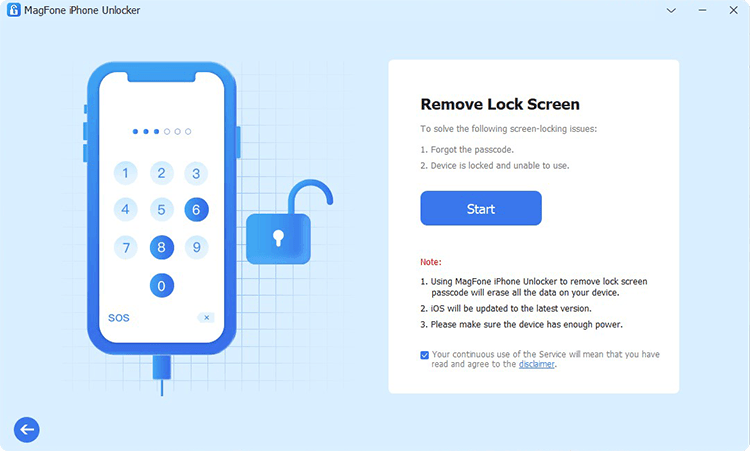 Open MagFone iPhone Unlocker to get ready. Connect your iPhone to a computer to make it detected by the program. Then select the Unlock iOS Screne option and click the Start button.
Step 2

Put iPhone into DFU Mode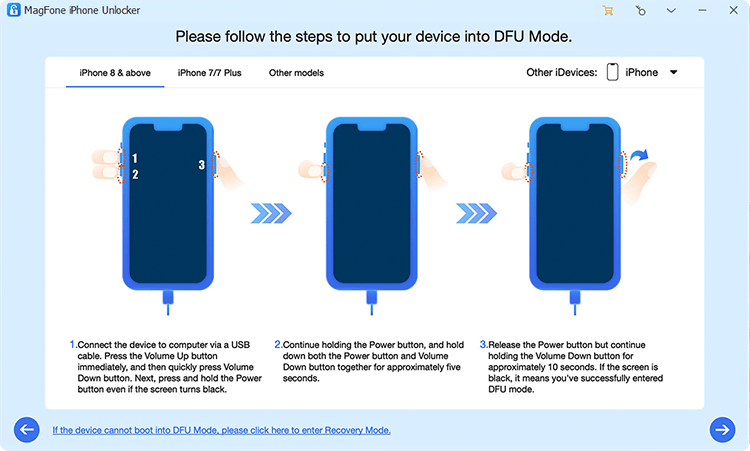 Before fixing the issue, you need to follow the onscreen instructions to put your iPhone into DFU mode. If you cannot, click the link to get your device into recovery mode.
Step 3

Download the Firmware Pacakge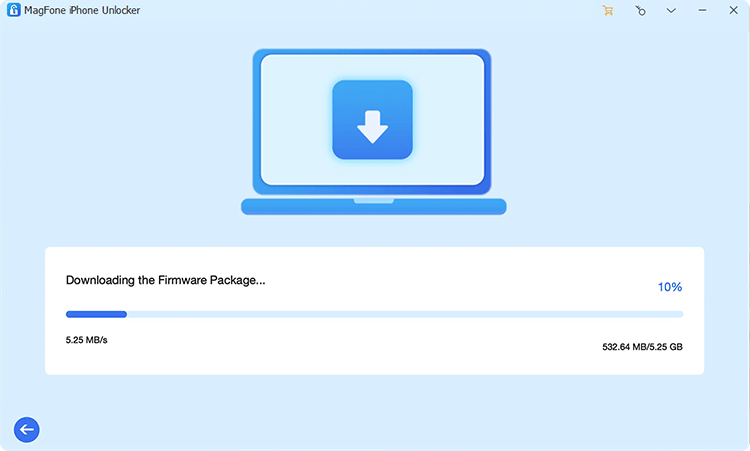 MagFone software will display the detailed firmware package information on the screen. Check it carefully to see whether it matches your device. Wait to download the necessary firmware package by clicking the Download button.
Step 4

Click to Unlock iPhone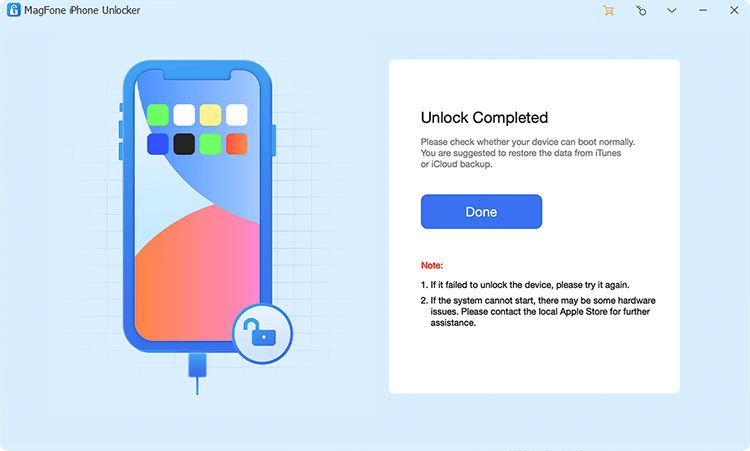 Once the downloading is completed, click the Unlock button to begin fixing the issue.. Please keep your iPhone connected to the computer before the whole process is done.
---
Part 5. Final Words
In this message, we have listed 5 different ways to solve why iPhone Passcode Requirement pops up with several possible causes. We hope that for iPhone users whoe have troubles, any method introduced above can be useful. Also, MagFone iPhone Unlocker is at your hand to help you solve the problem.