What! Your iPad is frozen with a black screen?
iPad, a series of Apple devices, is gaining more and more popularity among users. If you go on to the street, you can easily find Apple fans carrying an iPad in hand. iPad is equipped with many features of iPhone and Mac Book.
Many users are going through the same question since the number of iPad owners is gradually increasing. You can do nothing to your iPad since the screen is all black. How frustrating it is! To release you from sorrow and disappointment, below we listed some practical methods about how to fix black screen on iPad.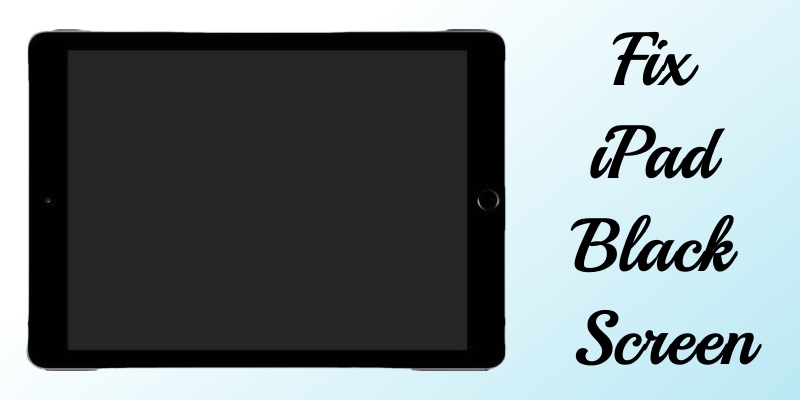 ---
Part 1. Why Is My iPad Screen Black?
For many users, instead of fixing the problem, they would prefer to know why this problem will happen. In reality, many factors can contribute to the iPad black screen, including system glitches, app failure, and update failures. In a word, iPad's black screen can result from various reasons and is hard to distinguish.
---
Part 2. How to Fix Black Screen on iPad without Data Loss
If you are editing something important, but the iPad suddenly goes to a black screen, then this is perfect for you. For users who want to keep the data on iPad, there are 4 solutions.
Method 1. Charge Your iPad
The first possibility many people may think of is whether the iPad is out of battery. Plug your iPad into a charging port and connect your iPad to it via a cable. Check carefully whether there are physical damages on the cable and the charging port.

Method 2. Force Restart Your iPad
If charging doesn't activate your iPad, then you can try to force restart your iPad to fix iPad black screen. Do as followed to force restart your iPad.
For iPads with the Home button: Press and hold both the Home button and the Power button for at least ten seconds until the Apple logo appears.
For iPads with Face ID: Press and release the Volume Up button. Then do the same to the Volume Down button. Then press and hold the Power button until your iPad restarts.

Method 3. Turn to Siri for Help
If you carry your iPad outdoors and want to use it outside, you may find that you can't open it because of a black screen. It possibly results from the light. You set your iPad screen light too dark. So, when you use your iPad under the sunlight, you can't see the screen clearly. In this case, you can voice out Siri and let Siri help you. But make sure that your iPad is connected to the Internet/cellular data and that the Siri feature is enabled.
Step 1. Speak to Siri.
Step 2. Ask Siri to turn up the brightness.
Method 4. Using an iPad Repairing Tool
If you have tried all the methods above but still your iPad is locked in a black screen, then your iPad may be stuck in deeper software glitches. To make your iPad work as expected, you can't miss this MagFone iOS System Recovery. Without finding out the exact reason for a black screen yourself, MagFone iOS System Recovery can help you solve the problem within minutes. You will not need complex technical skills to get your iPad fixed. Besides, it is compatible with all the iPadOS, the latest iPadOS 16 included. It only needs a cable and a computer to solve any complicated problem.

Key Features of MagFone iOS System Recovery
* Security Verified. 5,481,347 people have downloaded it.
Fix various ios issues like screen stuck, mode stuch, and more
Support updagrading and downgrading iOS without iTunes/Finder
Offer two modes for resetting iPhone, iPad, and iPod touch
Assist the entering and exiting of recovery mode for free
Step 1

Connect your iPad to MagFone and Click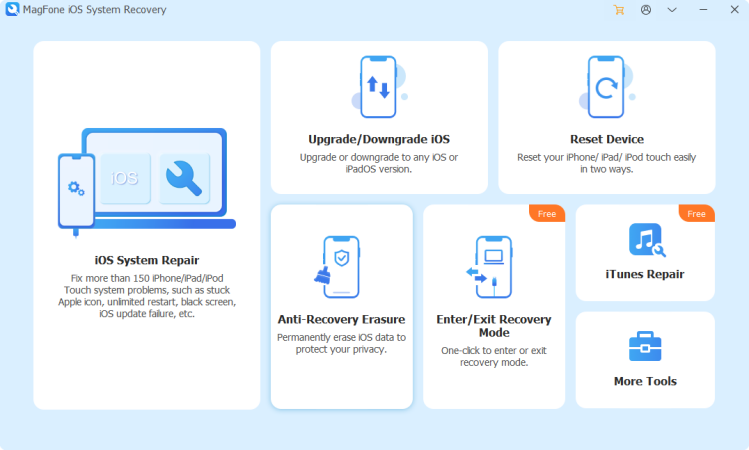 The first thing you should do is install iTunes on your computer. To make your device detected by the program, you should connect your iPad to the computer before you run the program. Click iOS System Repair to start the recovery. Then choose Screen Stuck from different types of repair. Select Start and let it begin.
Step 2

Choose Standard Repair Mode to Fix Your iPad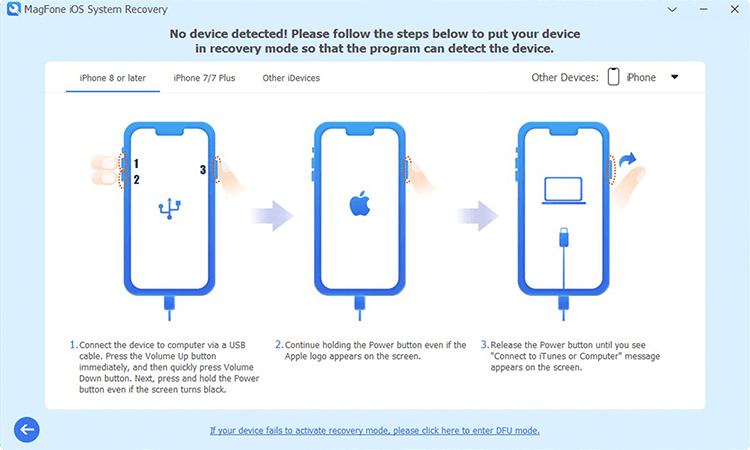 In most cases, simple clicks on the standard mode will fix your iPad's black screen. Now click the Standard Repair button. If the program can detect your device, please go to the next step. If fails, make your iPad enter the recovery mode according to the guidance on the screen.
Step 3

Download the Firmware Package and Verify It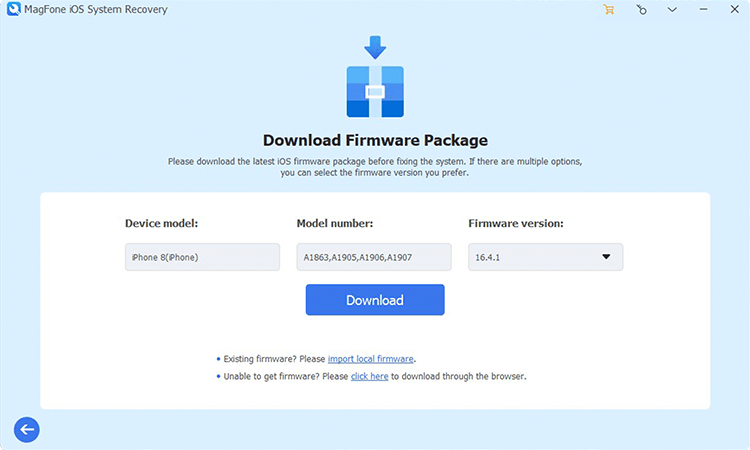 Your device information is displayed on the computer screen. If there's something wrong, select the right ones from the choices and then click Download. After the downloading is completed, the program will verify the firmware package automatically.
Step 4

Fix iPad Black Screen with Clicks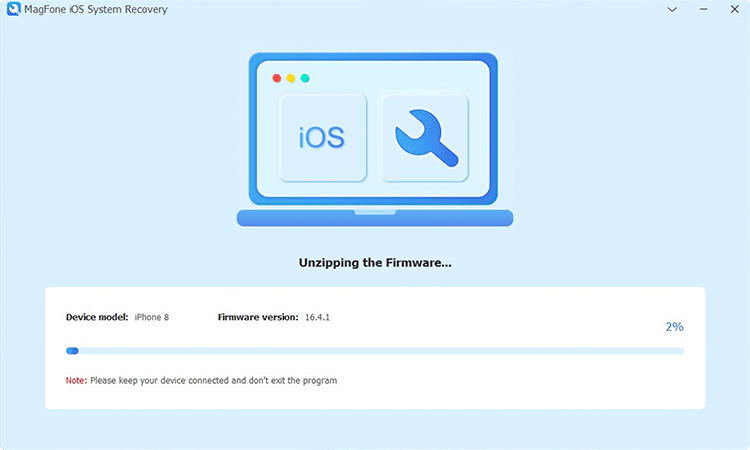 As long as the firmware is available, click Start to repair your iPad. If the process goes successful, your device will reboot soon.
---
Part 3. Ultimate Way of How to Fix a Black Screen on iPad
Besides the methods mentioned above, your iPad's black screen can also be fixed in some other way. But be careful, this method can cause data loss on your device.
3.1 Make a Backup of the iPad
Since this process will remove all the data on the iPad, it is suggested that you back up before the process continues. Below is the guidance. You can choose to back up through iTunes.
Use iTunes to Back up Your iPad
If you want to back up your data on the iPad, iTunes is a good choice. Also notice: This method is only effective when your device has been synced with the computer before.
Step 1. Connect your iPad to the computer to run MagFone. If asked for your device passcode or to Trust This Computer, follow the onscreen steps.
Step 2. Then select your device in iTunes. If your device doesn't appear on your computer, please repeat the previous step or check whether the cable can work as normal.
Step 3. Then select Summaryfrom the left side menu.
Step 4. Click Back Up Now. Check whether the last backup time and date are right.
3.2 Fix an iPad Black Screen via iTunes
Now that you have finished the backup, it is time we talk about how to fix the problem after you have finished your backup. That is to make use of iTunes to fix this problem. Here are the steps.
3.2.1 To update via iTunes
If your iPad gets stuck in the black screen, you can choose to update the device to fix the problem. Please make sure that you connect your iPad to a trusted computer.
Step 1. Open iTunes on your Windows or Finder on Mac.
Step 2. Connect your iPad to the computer.
Step 3. Click the device button in the iTunes toolbar. In the Summary tab, click Check for Update.
Step 4. Click Download and Update. Continue by following the onscreen instructions. If asked, enter your passcode.

3.2.2 Restore from iTunes
You can also choose to restore your iPad through iTunes to fix the black screen. Here's how.
Step 1. Connect your iPad to the computer.
Step 2. Open iTunes on Windows or the Finder on Mac. Then choose your iPad.
Step 3. Locate your iPad on your computer. When you see the option to Restore or Update, choose Update. Your computer will try to reinstall the software without erasing your data. Wait while your computer downloads the software for your iPad.
Step 4. When the updating process completes, set up your iPad.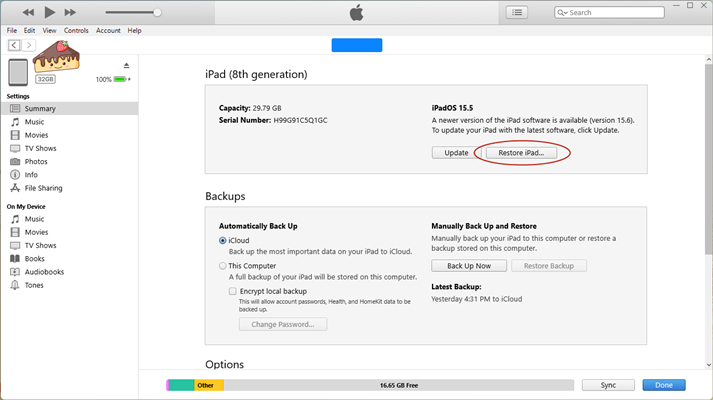 3.2.3 Put Your Device into Recovery Mode
You can also put your iPad into Recovery Mode to fix the black screen.Below are the steps.
Step 1. Please open iTunes/Finder on your PC and update it to the latest version.
Step 2. Keep holding the button (or buttons) until you see the recovery mode screen:
For an iPad without a Home button: Press and quickly release the volume button closest to the top button. Press and quickly release the volume button farthest from the top button. Press and hold the top button.
For an iPad with a Home button: Press and hold both the Home and the top (or side) buttons at the same time.
Step 3. Click the Summary button on the left side of the menu screen and select the Restore iPad button.
Step 4. Confirm to Restore iPad to fix the iPad's black screen.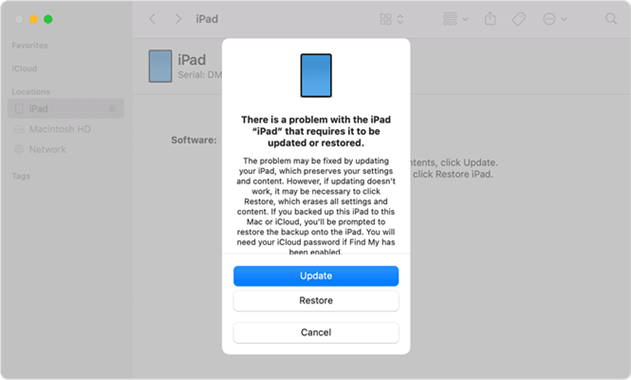 ---
Part 4. Summary
Though we have offered some advice on how to fix an iPad with a black screen, the methods above are only for iPads with software problems. If these methods can't work on your iPad, then you may need to go to an authorized Apple Center for more help. Also, Apple has carried out a policy: For iPads launched between March 2019 to October 2019, Apple offers free fixes. If you happen to be the one, then go to the Apple store and get your iPad repaired!