"There was a temporary problem completing your request. An unknown error occurred (9039)."
Are you also encountering the same problem when you are using iTunes? If it is your first time to come across this, then you may be terrified and don't know what's wrong with your iTunes. Since iTunes is a perfect companion to iOS devices, it can sync and back up your images, messages, documents, and so on. Not only can it transfer data, but also can update and restore the iPhones. Based on its various features, iTunes error code 9039 can be originated from a broad range of causes. Click to check out!
---
Part 1. What Is iTunes Error Code 9039?
9039 is the code number of iTunes errors. Apple has categorized different types of iTunes errors according to why would they happen. In fact, iTunes error 9039 usually occurs when you try to connect an AirPlay device to iTunes on the computer. Or when you try adding songs to your music library. This code is typically a sign that something went wrong while connecting, backing up, and restoring. The origin is hard to figure out, but we can offer the most common clues: corruption from outdated software versions, application files, and wrong system settings.
---
Part 2. How to Fix iTunes Error 9039 in 6 Quick Ways
Now that we have talked about why iTunes error code 9039 would happen, we will go on to discuss how to solve this problem. In this part, we have gathered 6 different methods to quick-solve this matter. Below is the tutoring.
Solution 1. Delete Songs in iTunes Music Library
If you have stored up to thousands of songs on your iTunes account, then when you try to add some music to the iTunes music library, the window "iTunes error 9039" is quite likely to appear. In this case, we recommend you delete some songs to clear the storage on iTunes.
Step 1. Open iTunes on your PC, click Songs on the left side of the window, then click Library.
Step 2. Choose the song you want to delete, press the right button on your mouse, then select Delete from Library. On the pop-up window, confirm to click Delete Song to complete the process.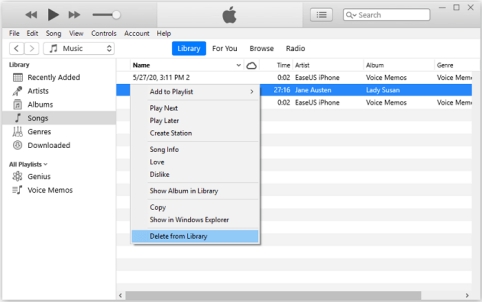 Solution 2. Sign Out of iTunes and Sign in Again
The second thing you can do when an iTunes error shows up is to sign out of your iTunes account and try to log in again. When you add music or connect a device to iTunes, the iTunes account you're using may have encountered a temporary glitch, causing the error code 9039. It is a major contributor to various problems with iTunes. So please follow the steps to settle this matter.
Step 1. Close iTunes and then open it again on your computer. If the iTunes error window appears, ignore it.
Step 2. On the interface, click Account on the top part of the menu bar. Then click Sign Out.
Step 3. After restarting your computer, navigate to iTunes again. Click Account again to log in to your account. Check whether this will remove the error window.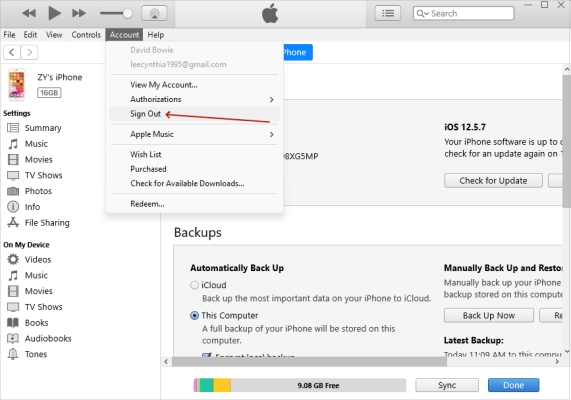 Solution 3. Authorize a PC to Access iTunes
If you do not authorize the computer you are currently using, then iTunes may prevent you from changing any settings or contents of the iTunes library. To fix this, you can authorize your computer, giving it access and permissions to your iTunes library. You can follow the steps below to guide you through the process:
Step 1. Open iTunes. On the top part of the menu, click Account.
Step 2. Choose Authorizations, and navigate to Authorize This Computer.
Step 3. Then click Account, and choose Sign in. Enter your Apple ID and password.
Step 4. Click Authorize to finish the whole process.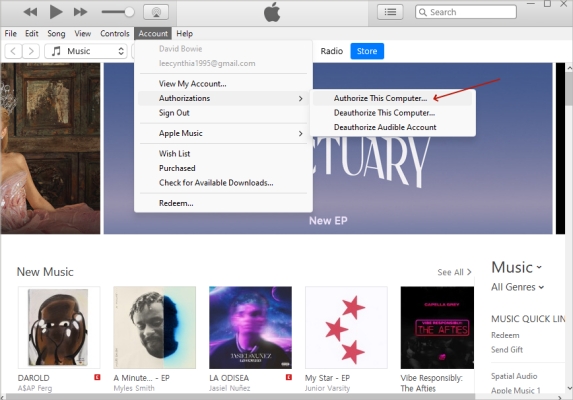 Solution 4. Update iTunes to the Latest Version
It is possible that your iTunes is out of date and cannot sync with your device. That can be the reason why iTunes error code 9039 appears. Try to update your iTunes to remove the error window.
Step 1. Click Help at the top menu on iTunes.
Step 2. Then select Check for Updates on the scroll-down page.
Step 3. If iTunes detects a new version, then there will be a pop-up window. Click Download iTunes. Then click Install 1 item on the Apple Software Update pop-up. And go on to install the latest version of iTunes.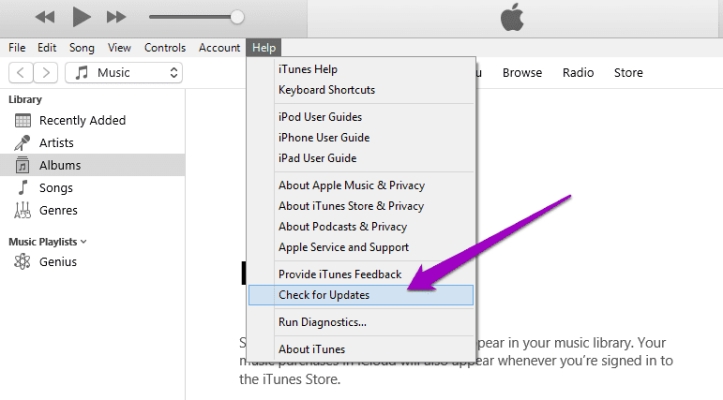 Solution 5. Update iCloud Music Library
According to some of our customers, they have successfully removed the iTunes error window after updating iCloud Music Library. So if you are also trapped in iTunes error 9039, have a try!
Step 1. Launch iTunes to continue.
Step 2. Click the File tab on the menu.
Step 3. Choose Library, then move your mouse to the right and select Update iCloud Music Library.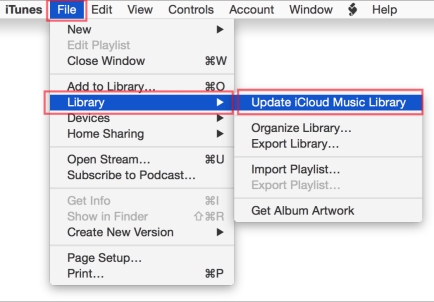 Solution 6. Uninstall and Re-download iTunes
Some iTunes glitches can also lead to the iTunes error 9039. They are hard to be noticed. The simplest way to solve this can be to uninstall iTunes and reinstall it on your computer.
Step 1. Press the Windows key on the keyboard and click Settings on your computer.
Step 2. Click Apps, and select Apps & Features.
Step 3. Find or type iTunes, and click More to uninstall iTunes.
Step 4. Then open a web browser to search iTunes and download it from the official site.
---
Part 3. Ultimate Tip on Solving 9039 Error iTunes
Besides program glitches on iTunes, when you connect your devices like iPhone to the computer to sync the music library, incidents can also happen. In this case, iTunes error code 9039 is mostly likely to be related to problems on your iPhone. Therefore, we suggest that you can try MagFone iOS System Recovery.
Since iTunes error 9039 is related to the connection between your iPhone and computer, we recommend MagFone iOS System Recovery to solve problems on your iPhone. No matter whether it is because of a failed backup attempt or a restore try on your iPhone, MagFone can get you out of the loop at a quick speed and high success rate. It is a one-click-for-ever solution, something that can instantly diagnose where the problem lies and fix it without data loss. No need for technical skills. Neither will you need to suffer from the risk of failure. MagFone is proven to be 100% effective without effort. Besides fixing iTunes errors related to iPhone systems, MagFone can also help users enter/exit recovery mode, reset devices, and upgrade/downgrade iOS devices. Click the following links to find out more!

Key Features of MagFone iOS System Recovery
* Security Verified. 5,481,347 people have downloaded it.
Fix various ios issues like screen stuck, mode stuch, and more
Support updagrading and downgrading iOS without iTunes/Finder
Offer two modes for resetting iPhone, iPad, and iPod touch
Assist the entering and exiting of recovery mode for free
Step 1

Open the Program and Connect Your Device to Computer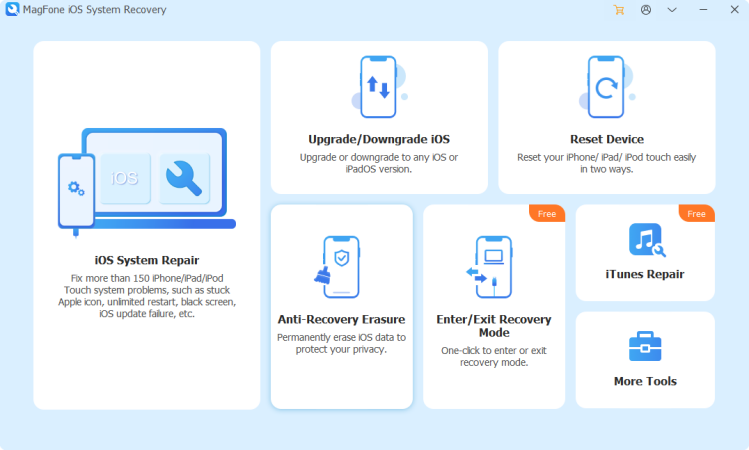 Since you have connected your device to the computer, you will only need to run MagFone iOS System Recovery. Click iOS System Repair and select Device Problems from the trouble list.
Step 2

Click Standard Repair to Begin

Click Standard Repair to avoid data loss. In fact, standard mode is able to solve most types of iOS system glitches. If not necessary, be cautious to choose Deep Repair.
Step 3

Download and Verify Firmware Package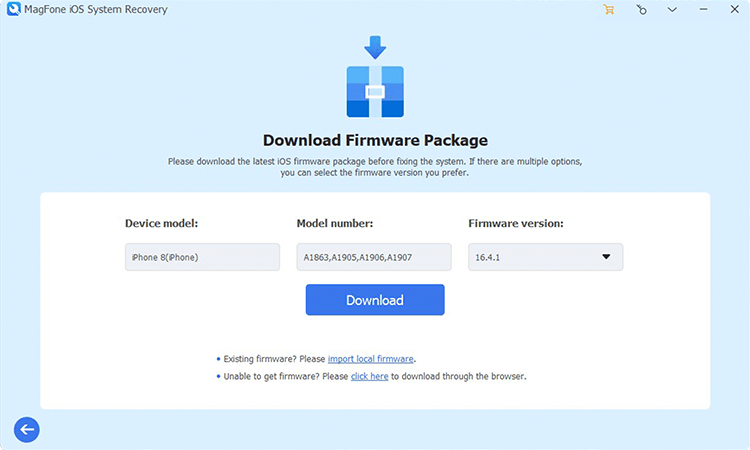 Before the repair starts, make sure that your device is detected by the program. If not, please do as the on-screen guidance shows to put your device into DFU Mode or Recovery Mode. Then click to continue. Check your device information on the screen and click to download the vital firmware package.
Step 4

Select Repair to Solve iTunes Error Code 9039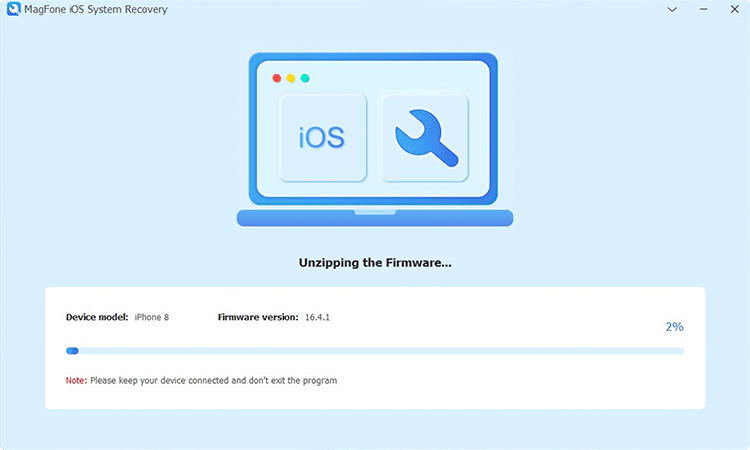 After the package is downloaded, please click Start Standard Repair to let the program fix the iTunes error for you. This process may take some time. Please wait patiently. Till the process is done, try iTunes and check whether it can work well.
---
Part 4. Summary
This wraps up our guidance on how to remove iTunes error code 9039 on the PC. If you have any problem while applying the solutions above, leave a comment and share it with us. We will try our best to answer it for you. Besides, if you try to figure it out on your own, we strongly recommend MagFone iOS System Recovery to help you solve iTunes error code 9039. Have a try, and tell us how do you think!