With the release of iOS 16 in September 2022, many iPhone fans can't wait to update their iOS to the latest version. Some are attracted by its new features while others simply long for keeping up with the trend.
However, incidents may occur when users try to update the iOS system. Many customers complain about their iPhone stuck on preparing update. It takes much longer to prepare the downloading. Or worse, the user's iPhone is even frozen and can't function as expected. If you have come across the same question, then you can refer to this passage to find some feasible workarounds. Continue checking them out!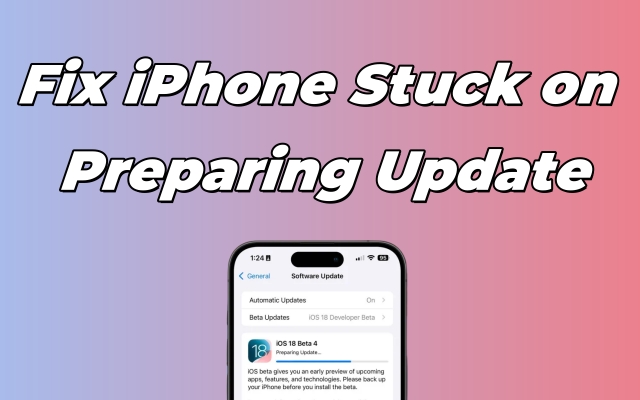 ---
Part 1. Why Is My iPhone Stuck on Preparing Update?
To understand why is a new iPhone stuck on preparing update, we should first discuss what Preparing Update means. In fact, it is one of the phrases when your iPhone tries to download or install an update. When updating your iPhone, it will first check if it is connected to the internet before proceeding to download and complete the update. If the update process stops, there could be several reasons for this. Here are some possible causes.
Network Disconnection: Unstable network connection will contribute to the interruption of this preparation period. So remember to check your network when your iPhone gets stuck.
System Glitches: Sometimes unknown system glitches will also result in a frozen iPhone. Your iPhone won't function as normal until the system bug is solved.
Physical Damage: Damage to your iPhone, such as a broken screen, can break off the process as well.
Low Battery: Check whether your device is running out of battery. A low battery will also make the process fail. Plug in a charging port and charge your iPhone via a cable to go on updating.
Lack of Storage: The update file can take up much room in your iPhone. So if there's not enough space left in the device, the attempt to update will also be stuck and fail.
---
Part 2. Best Choice to Recover iPhone Stuck On Preparing Update
For users who get upset by the frozen iPhone, the quickest way to recover iPhone with the system stuck on the preparing update process is to apply to MagFone iOS System Recovery. It is a quick fix to solve most iOS system problems, such as iPhone being stuck on preparing update. No matter what the reason is, MagFone can repair instantly. There's no need for you to figure out the exact reason that has caused iPhone to get stuck on preparing update. All you need are some clicks, a computer, and a cable. What's more, the Standard Mode of recovery will retain the data on your device, which is quite convenient. To find out more about MagFone, you can click the links below for more information.

Key Features of MagFone iOS System Recovery
* Security Verified. 5,481,347 people have downloaded it.
Fix various ios issues like screen stuck, mode stuch, and more
Support updagrading and downgrading iOS without iTunes/Finder
Offer two modes for resetting iPhone, iPad, and iPod touch
Assist the entering and exiting of recovery mode for free
Step 1

Connect Your Device to the Computer to Start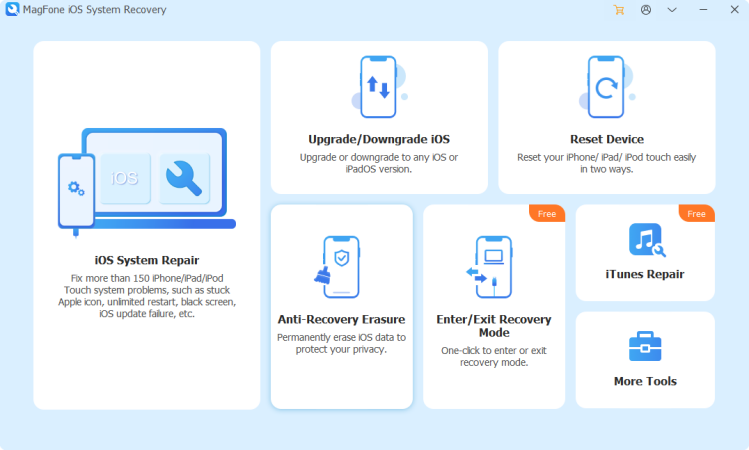 First, you can download the MagFone program. Connect your iPhone to the computer via a cable. Then open the program and click iOS System Repair and click Screen Stuck.
Step 2

Select Standard Mode to Fix iPhone Update Stuck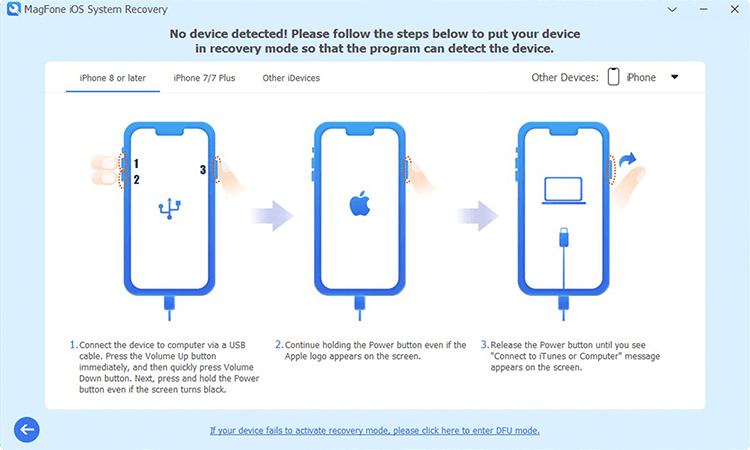 Then click Standard Mode on the screen. This step will cause no data loss. So, please be comfortable to click Standard Mode. If your device isn't detected by the program, then please put your device into DFU Mode as shown on the screen.
Step 3

Download and Verify Firmware Package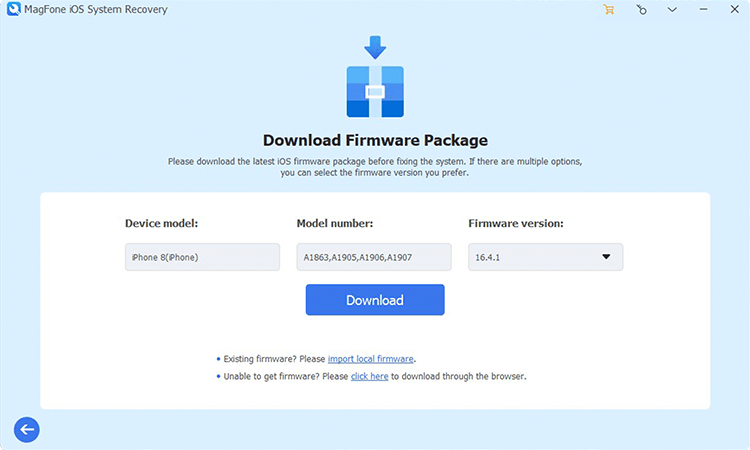 To achieve iOS system repair, MagFone will download the necessary firmware package for your iPhone. When it finishes, the program will verify the package automatically. Then you can go to the next step.
Step 4

Begin Repairing and Keep the Connection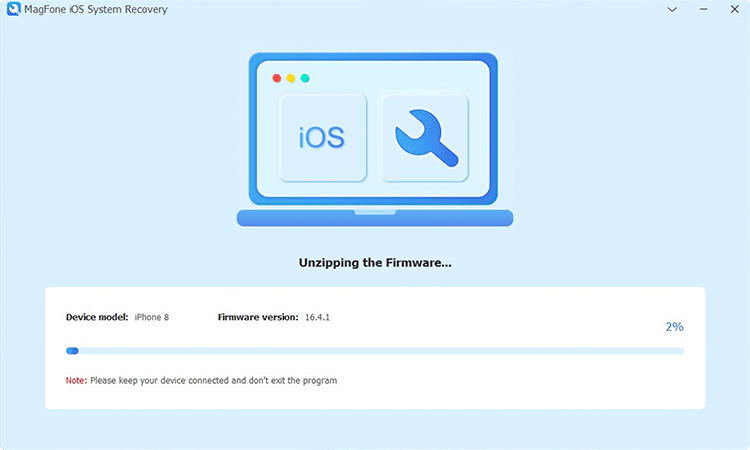 Now you can click to start Standard Repair on the program and let it unzip the firmware package for you. Remember to keep your iPhone still before the whole process is finished. When the screen shows Done, it means that the recovery is completed. You can try to update your iPhone now.
---
Part 3. Other Ways to Fix iPhone Stuck on Preparing Update
Besides MagFone iOS System Recovery, there are also several handy tips that may help you fix a new iPhone stuck on preparing update. Though we can't assure they are 100% effective, they are worth trying.
Method 1. Reset Wi-Fi Connection
Since the network can influence the update process greatly, users can reset their Wi-Fi connection to recover iPhone updating functions. Disconnect with the current Wi-Fi, and connect to a more stable network. Check whether the updating returns to normal.
Method 2. Clean iPhone Storage
Usually, the update file will take up to 100MB to up to 1GB. If there's no more space, the updating process will have nothing to do but stop. To prevent this, you should choose the iPhone storage option to check the storage condition of your iPhone. Delete useless files to make room for the update.
Step 1. Navigate to Settings, and choose General. Then tap iPhone Storage.
Step 2. On this page, you can clearly see the storage detail of your iPhone. Scroll down to check each app's condition. Choose to uninstall apps or delete data of undesired apps. Or you can enable Offload Unused Apps to save iPhone storage.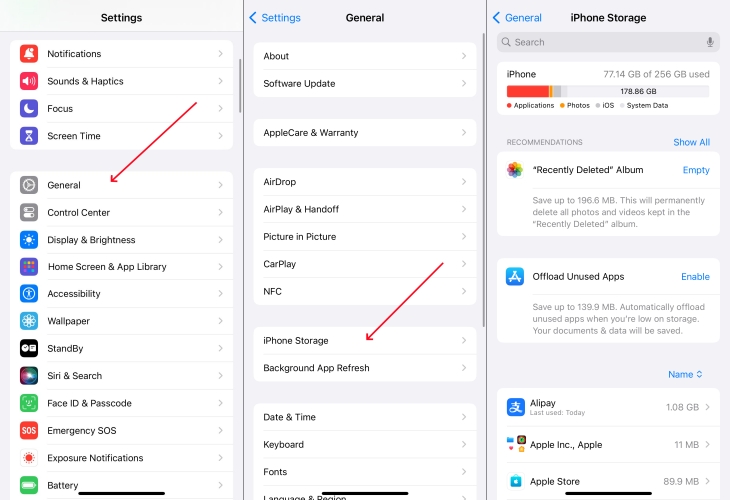 Method 3. Delete the Update File
As we discussed in the previous content, system glitches can result in iPhone stuck on preparing update. So it is suggested to delete the update file and restart the update.
Step 1. Go to Settings, and tap General.
Step 2. Choose iPhone Storage, and then select Delete Update.
Step 3. Then go to General again. Tap Software Update. Select Download and Install to try to download.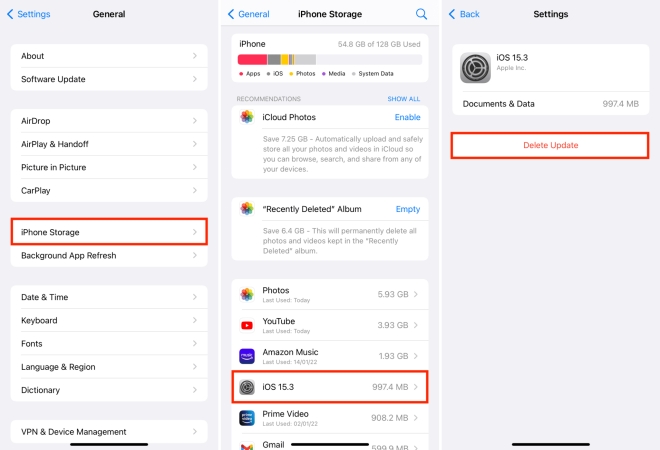 Method 4. Reset Network Settings
If you changed to a new network but didn't see any improvements. Maybe you should try to reset the networking. By doing so, your present used networks and some other network-related settings will be removed at the same time. Then you can set up the network and try to update again.
Step 1. Navigate to Settings, choose General, and then tap Transfer or Reset iPhone.
Step 2. Select Reset, and tap on Reset Network Settings.
Step 3. After the process is done, set up a new network and tap to update the iOS system.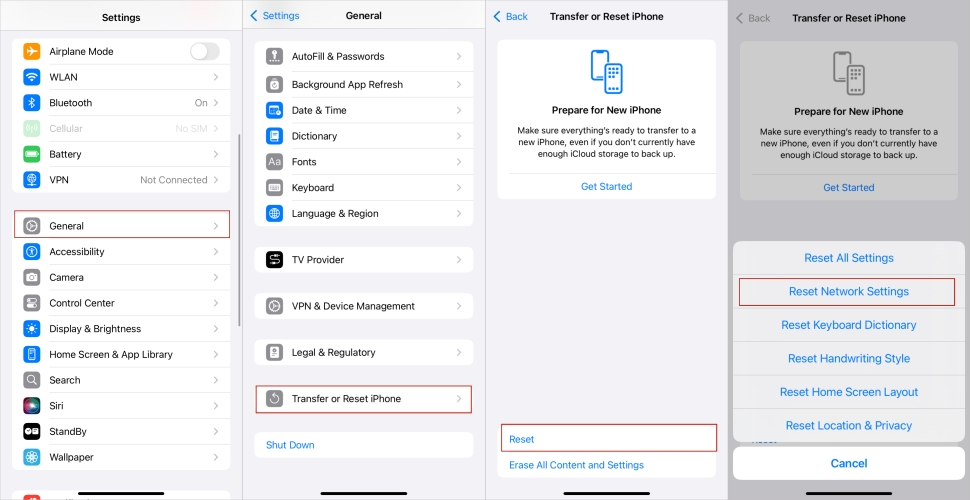 Method 5. Force Restart iPhone
If you have tried all the above 4 methods but still iPhone gets stuck with malfunctions, why not try this method? Below is how to force restart your iPhone based on your device type.
For iPhone 8 and Later Models: Press and then release the volume up button. Then press and release the volume down button. Press the side button till the phone restarts.
For iPhone 7 and SE: Press the power button and volume down button at the same time. When the Apple Logo appears on the screen, release your hands.
For iPhone 6 and Earlier Models: Hold both the home button and power button. Release when your iPhone reboots.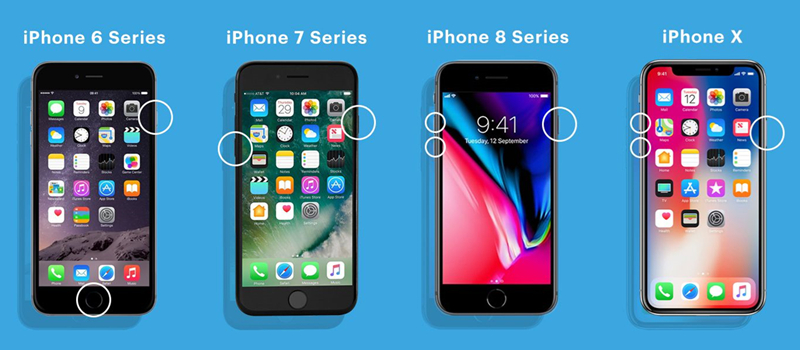 Method 6. Update through iTunes
In addition to updating through Settings on your iPhone, users can choose to update via iTunes. You can also back up your phone to avoid data loss in this course.
Step 1. Open iTunes on Windows or Finder on Mac. Connect your iPhone to the PC via a cable. Then tap "Trust" on your iPhone to trust this computer.
Step 2. Click on your device on the iTunes interface. Then choose the Summary tab on the menu.
Step 3. When you see the option on the right side of the interface, choose "Check for Update". Then confirm to update. You might need to wait for some time.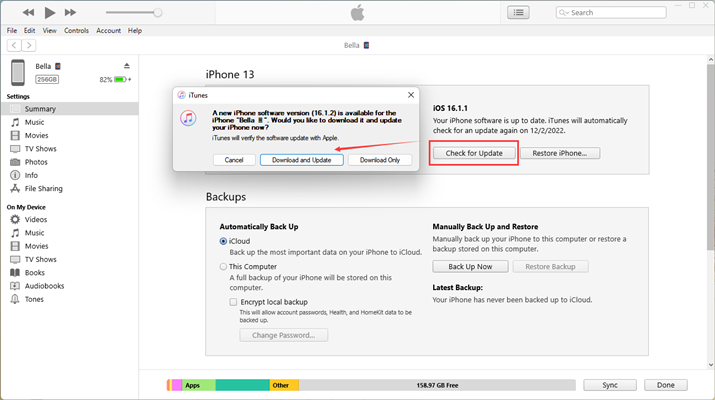 ---
Part 4. Tips to Avoid iPhone Update Stuck in the Process
Based on the previous content, we believe that you are able to fix iPhone stuck on preparing update. Since we have listed 7 methods to deal with it, users can find a way that suits their condition most. Though you have solved the problem, an even more important thing is to avoid the same trap. Here we can also provide you with some tricks.
Charge When Necessary
iPhone battery provides the basis for iPhone features and function. If you run out of battery, then your iPhone will become a solid brick without any response. To keep your device working normally, please remember to charge your iPhone when necessary.
Clear iOS Junk
Always make sure that there's plenty of space left on your iPhone. To assure there will be no problem when you want to install or download a new iOS system version or application, it is vital to keep your iPhone storage clean.
Upgrade through MagFone
When it comes to updating iOS versions, MagFone iOS System Recovery is also a good choice. Besides repairing iPhone stuck on preparing update, it can also downgrade and upgrade the iPhone with ease. With the help of MagFone, there will be no need for you to worry about system bugs or iPhone frozen problems. Below is how to upgrade your iPhone system version through MagFone.
Step 1. Download MagFone on your computer. Then connect your iPhone to the PC and run the program.
Step 2. Select Upgrade iOS on the program interface. Then click Screen Stuck to start the repair.
Step 3. Choose Standard Repair to avoid any data loss. If the screen shows "no device detected", please put your iPhone into Recovery Mode or DFU Mode to continue.
Step 4. MagFone will display device information on the screen. Check it carefully and then click to download the firmware package.
Step 5. Select Repair to let MagFone recover your device. Don't move your iPhone until the process ends.
---
Part 5. Final Words
With the above tips, we believe that you have known how to fix an iPhone stuck on preparing update. It is worth mentioning that MagFone iOS System Recovery is such a useful tool that we would like to recommend it to everyone. If you have any questions, feel free to contact us!