Imagine that you have bought a second-hand iPod touch, and you cannot unlock it because you don't know the passcode. Or think about the situation once you forgot your passcode. You can't use your iPod due to the locked screen. After having tried several times, your iPod can even be disabled. How disappointing that is!
But don't worry! What you need to do at this point is to simply bypass iPod passcode so that you can have access to your iPod and use it as normal. Then some users may ask: How to bypass iPod passcode? Here, we can provide you with some latest ways to bypass passcode on iPod, all proven to be effective. Check them out!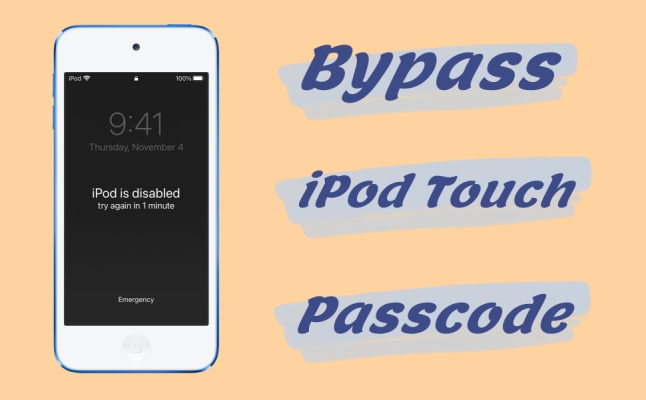 ---
Part 1. How to Bypass iPod Passcode without Losing Data
Having saved many important images, messages, and other data on the iPod, most users may want to keep the data on their iPod. So, the first clue of how to bypass iPod passcode will make users suffer no risk of losing data. That is to bypass the passcode on iPod via Siri. But this method has a reputation for its low success rate. Be cautious.

Step 1. Press the Home button for several seconds to voice out Siri.
Step 2. Ask Siri what time it is right now till you see the clock on the screen.
Step 3. Tap the clock icon and visit the World Clock interface to press "+" button.
Step 4. Choose any city and then tap Select All. Choose to share through Message.
Step 5. Press Return on the keyboard and press "+" to create a new contact.
Step 6. Turn to "add photo", then tap "Choose Photo". The photo library will be shown on the screen.
Step 7. Tap the Home button, and you will go to the Home screen without passcode.
---
Part 2. How to Bypass iPod Passcode without Apple ID
For users who fail to remove iPod passcode through Siri, what can they do? Or for those who forgot their Apple ID passcode, can they figure out a way to unlock iPod without passcode as well? Here, we offer two feasible ways.
Method 1. Best Tool to Remove iPod Passcode
Though useful, the method mentioned above can not fix the problem of removing iPod passcode, you may trap in the loop to bypass the passcode again and again. If you want something more practical, let a third-party unlocker software work for you at ease.
With MagFone iPhone Unlocker, you will only need 4 steps to achieve the whole process. MagFone iPhone Unlocker is one of the best iOS unlocking software. Besides bypassing a locked iPod screen, it can also help you unlock the screen time limit, remove Apple ID and get your device rid of MDM no matter what type your device is. It is worth mentioning that it also has a trial version for anyone interested in it. Come and have a look!

Key Features of MagFone iPhone Unlocker
* Security Verified. 5,481,347 people have downloaded it.
Unlock various screen locks like Face ID and Touch ID on all iOS devices
Remove Apple ID from iPhone and iPad without password and data loss
Bypass Screen Time passcode and MDM restrictions without passcode
Support the latest version of iOS and iPadOS, as well as, iOS devices
Step 1

Run MagFone and Connect Your iPod to Computer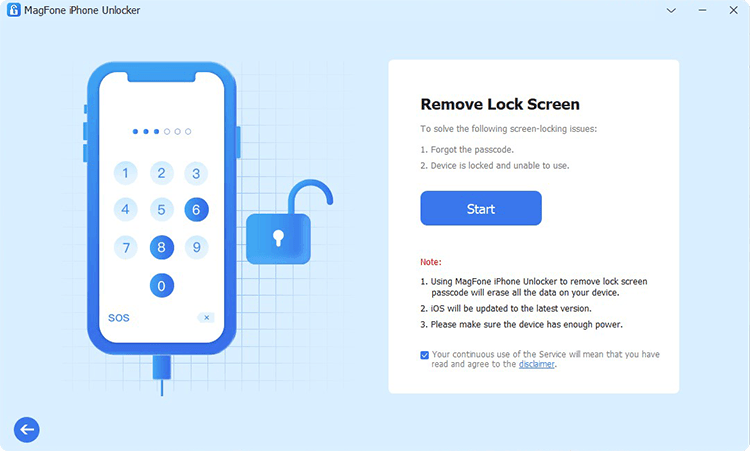 Open the program and connect your iPod that needs bypassing passcode to the PC. Then click Unlock iOS Screen to start.
Step 2

Enter the Recovery Mode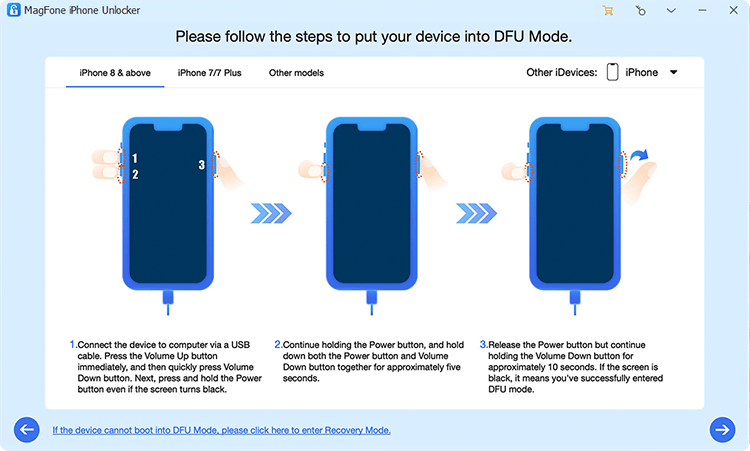 To make your iPod recognized by the computer, please do as shown on the screen to enter the Recovery Mode. If you cannot put your iPod into a recovery mode, you can click the link to boot your device into DFU mode.
Step 3

Download and Verify Firmware Package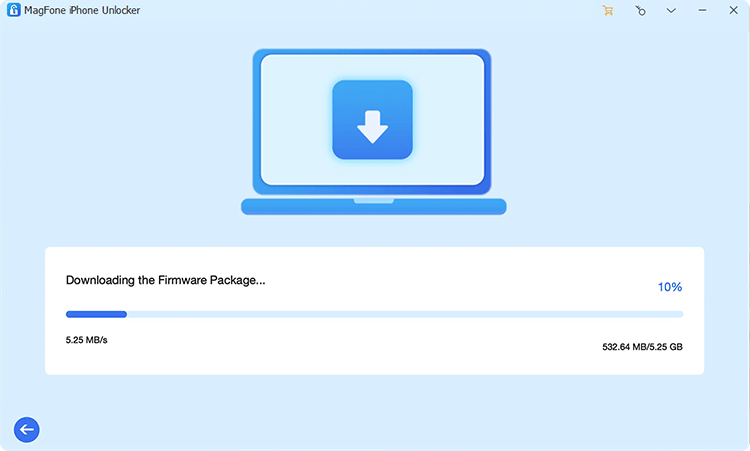 The program shows your device information by default. Check it carefully and choose your matched version. Then click "Download" to start downloading and verifying a compatible firmware package. Wait patiently until the whole process finishes.
Step 4

Wait to Bypass iPod Passcode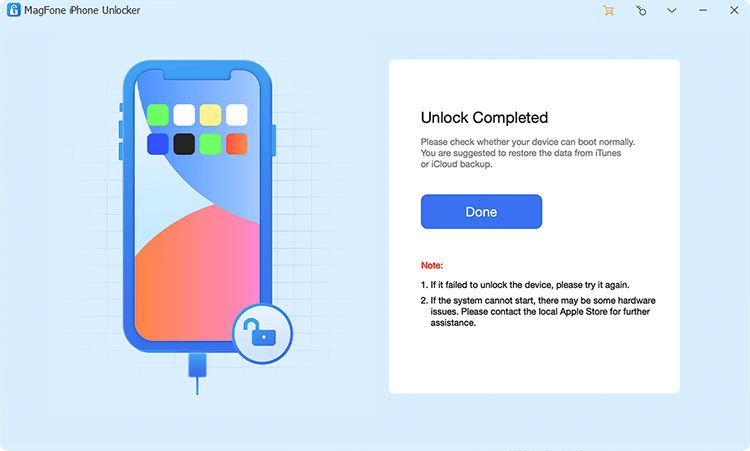 Then click the Unlock button to begin unlocking. Please keep your device connected to the computer before the task is completed. Within minutes, MagFone will remove iPod passcode for you successfully.
Method 2. Bypass iPod Passcode with iTunes
Users can also turn to iTunes/Finder to bypass passcode on iPod when the iPod is locked. Following are the instructions. There are two different options depending on whether your iPod has synced with iTunes on the computer before.
Option 1: Unlock iPod Touch on Trusted Computer
If your iPod touch have been connected to the computer before, you can directly connect it to the computer. Then you can reset your iPod with iTunes or Finder.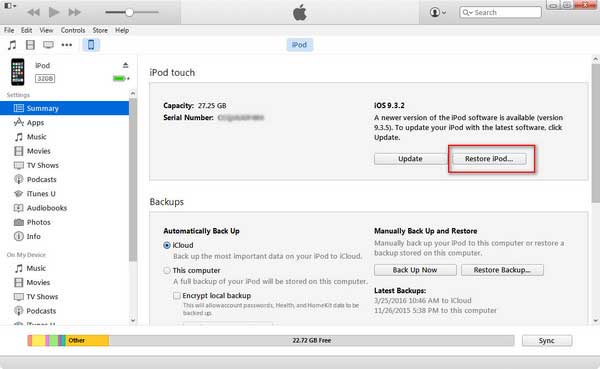 Step 1. Connect your iPod to a trusted computer via a cable.
Step 2. Open iTunes on a Windows PC or the Finder on a Mac and click your device icon.
Step 3. Select the Summary tab on the left menu and click the Restore iPod button.
Step 4. Click the Restore iPod button again to confirm the restoration.
Option 2: Unlock iPod Touch in Recovery Mode
If you don't connect your iPod to any computer, you must get your device into recovery mode to go on the steps.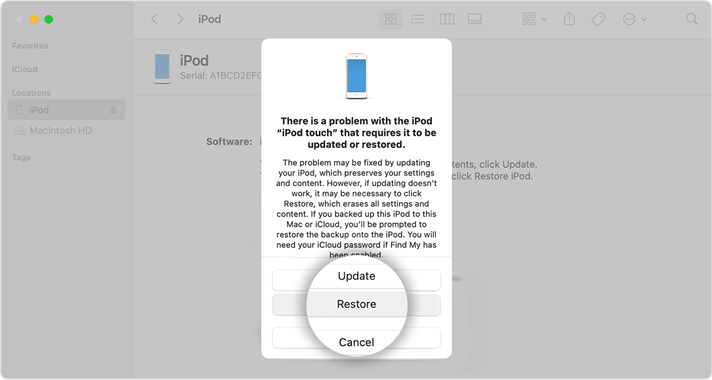 Step 1. Connect your iPod to the computer and run iTunes on Windows or Finder on Mac.
Step 2. Select your device when it appears on the screen and Do the following to put your iPod into the Recovery Mode:
For iPod touch (7th generation) : Press the volume down button.
For iPod touch (6th generation and earlier): Press the Home button.
Press and hold the correct button for your iPod touch while connecting your iPod touch to the computer. Keep holding the button until you see the recovery mode screen on your iPod, then let go. If you see the passcode screen, you need to turn off your iPod and start again.
Step 3. iTunes will detect the device in recovery mode automatically. In the pop-up window click the Restore button to reset your device for deleting passcode.
---
Part 3. How to Bypass iPod Passcode without iTunes
Besides the methods mentioned above, when you don't have a computer nearby, the following 3 methods can be of great help. With several taps on the screen, you can bypass iPod passcode effortlessly.
Method 1. How to Unlock iPod without Passcode through iCloud.com
When having no access to iTunes or computers, users can also turn to iCloud.com on other devices for help. It can erase the device without effort. However, your iPod will be factory reset and all the data will be removed as well. To apply this method, you will need to enter your iCloud account.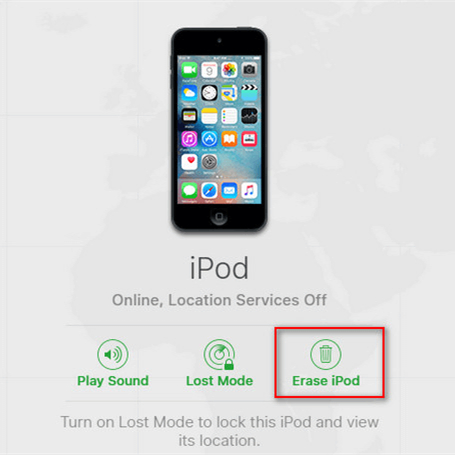 Step 1. Go to icloud.com, and sign into iCloud with the Apple ID used on the locked iPod.
Step 2. Turn to Find My feature and all devices signed with the same Apple ID will be shown on the screen.
Step 3. Select the locked iPod, then tap Erase iPod to remove iPod passcode. Tap Continue and again confirm to erase with Apple ID account. Wait until the whole process is completed.
Method 2. How to Open a Locked iPod through Find My
If you have other devices like iPad and iPhone, you can also utilize the Find My feature to easily bypass iPod passcode. It is similar to the last method. Below is the guidance.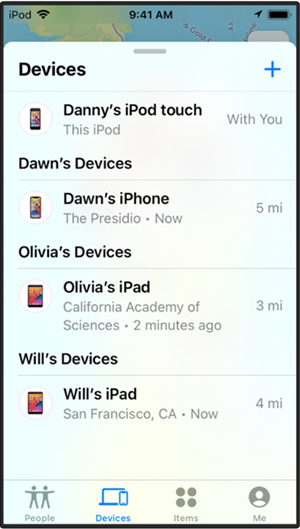 Step 1. Open Find My on another iPad or iPhone signed in with the same Apple ID on the locked iPod.
Step 2. All the devices will be shown at the bottom and select your locked iPod.
Step 3. Scroll down to tap Erase This Device and choose Continue.
Step 4. You may be asked to enter your phone number in case others find the device and want to contact you. Enter your number and tap Erase in the up-right corner on the screen to finish the process.
Method 3. How to Erase iPod without Passcode via Security Lockout
To remove the passcode on iPod via Security Lockout, we must know what Security Lockout means first. Actually, Security Lockout is a new feature of the Apple device since its update from iOS 15.2. Users can unlock their iPods without a computer and iTunes. When users have tried more than 7 times to unlock an iPod but still fail, then the device will be locked and shown a Security Lockout screen. If this happens, users can take advantage of the Erase iPod option.
Step 1. On the locked screen, tap Erase iPod in the bottom-right corner on the locked screen and then confirm to erase iPod again.
Step 2. Enter your Apple ID and passcode to sign out of your Apple ID.
Step 3. Confirm to erase your iPod. It will start the progress to erase your data and settings. At the same time, the security lockout is deleted as well. Once your iPod restarts, you are able to reset the iPod.
---
Part 4. Comparison of Methods to Bypass iPod Passcode
Above we have discussed 6 different methods of how to bypass iPod passcode. Here we have listed the pros and cons of each. You can get a clearer idea about bypassing passcode on iPod.
| | | | | | | |
| --- | --- | --- | --- | --- | --- | --- |
| | Siri | iCloud.com | Security Lockout | Find My | iTunes | MagFone iPhone Unlocker |
| Need for A Computer | × | × | × | × | √ | √ |
| Need for Another Device | × | √ | × | √ | × | × |
| Need for Apple ID | × | √ | √ | √ | × | × |
| Need for Find My Feature | × | √ | × | √ | × | × |
| Need for Voice Assistant | √ | × | × | × | × | × |
| Need for iCloud | × | √ | × | √ | × | × |
| Data Losing | × | √ | √ | √ | √ | √ |
| Able to Reset iPod Passcode | × | √ | √ | √ | √ | √ |
| Activate after Unlocking | × | √ | × | √ | × | × |
| Difficulty | High | Medium | Medium | Medium | Medium | Low |
| Low | Medium | Medium | Medium | Medium | Medium | High |
---
Part 5. Summary
Among all the 6 methods of how to bypass passcode on iPod, which one is your favorite? For many, MagFone iPhone Unlocker is their answer due to its powerful functions and quick speed. Don't forget to leave a comment to let us know. Also, if you have any other problems, feel free to contact us!